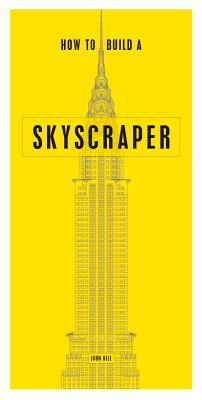 How to Build a Skyscraper (Hardcover)
Firefly Books, 9781770859609, 192pp.
Publication Date: October 3, 2017
* Individual store prices may vary.
Description
An architect specializing in tall buildings examines 45 of the world's most significant skyscrapers.
This spectacular book is the most comprehensive collection of modern skyscrapers published in the last 20 years. Skyscrapers have been piercing the clouds since the end of the nineteenth century, but today, soaring land prices are driving developers to build bigger, better and higher.
The lavish spreads feature a large photograph with cross-section drawings plus fact boxes listing location, year of completion, height, stories, primary functions, owner/developer, architect, structural engineer, and construction firm.
Concise text describes historical context; unusual or innovative construction; engineering and structural systems; foundation, facade, and shape; the site history; and building usage; as well as any special features that make the skyscraper unique. For example, "The Gherkin" at 30 St Mary Axe, London, UK, surprisingly has only one piece of curved glass, despite its rounded shape.
The 45 skyscrapers in How to Build a Skyscraper appear not for their height but for their pioneering technology, sustainability, and other characteristics that set them apart. They are distributed over the world's most developed regions of North America, Europe, Asia, and Australia.
Some of the skyscrapers are:
The new building next to the site of the two World Trade towers, officially One World Place Center -- quickly nicknamed by New Yorkers as the "Freedom Tower" The Kingdom Center, with a hole and skybridge at its top and interiors that call to mind the spaceships of Hollywood, the third tallest skyscraper in Saudi Arabia The Bank of China in Hong Kong, designed by I. M. Pei, controversial because it was built without the benefit of a feng shui consultation The Taipei Tower in Taiwan, the world's most environmentally responsible skyscraper in reduced water use, energy use, and carbon emissions, and also designed to withstand typhoon winds and earthquake tremors.
How to Build a Skyscraper also features a gatefold with a height comparison graphic for all of the featured skyscrapers.
About the Author
John Hill is a registered architect, editor-in-chief of the Daily News section of World-Architects.com (over 100k monthly visitors) and founder and editor-in-chief of the blog A Daily Dose of Architecture (www.archidose.org). He is the author of Guide to Contemporary New York City Architecture and 100 Years, 100 Buildings, and he oversees the Building of the Year competition for the American branch of the World-Architects.com platform. He has a strong presence on key social media channels, including Twitter (11.2k). He focuses on writing, blogging and editing projects and gives architectural tours of New York City.