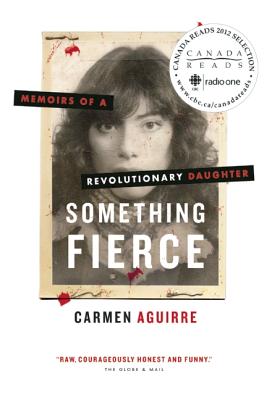 Something Fierce: Memoirs of a Revolutionary Daughter (Paperback)
Memoirs of a Revolutionary Daughter
Douglas & McIntyre, 9781771000369, 277pp.
Publication Date: July 24, 2012
* Individual store prices may vary.
or
Not Currently Available for Direct Purchase
Description
Winner of Canada Reads 2012
Nominated for the Charles Taylor prize and the BC Award for Canadian Non-Fiction

On September 11, 1973, General Augusto Pinochet led a violent coup that removed Salvador Allende, the democratically elected socialist president of Chile, from office. Thousands were arrested, tortured and killed under the repressive new regime. Six-year-old Carmen Aguirre and her younger sister fled the country with their parents for a life in exile.

Five years later, when her mother and stepfather returned to South America as Chilean resistance members, Carmen and her sister's double lives began. At 18, Carmen herself joined the resistance, plunging further into a world of terror, paranoia, and euphoria. Something Fierce takes the reader inside war-ridden Peru, dictatorship-run Bolivia, post-Malvinas Argentina, and Pinochet's Chile during the eventful decade between 1979 and 1989.

Dramatic, suspenseful, and darkly comic, it is a rare account of revolutionary life and a passionate argument against forgetting.
About the Author
Carmen Aguirre is a Vancouver-based writer and theatre artist who has worked extensively in North and South America. She has written or co-written eighteen plays, including The Refugee Hotel, which was nominated for a Dora Mavor Moore Award for best new play in 2010. "Something Fierce" is her first book.
Praise For Something Fierce: Memoirs of a Revolutionary Daughter…
"In a voice that rings beautifully and heartbreakingly true--filled with tenderness, confidence, vulnerability, compassion, fear, and courage--Something Fierce movingly renders the normal difficulties and pleasures of adolescence as they collide with the urgent sacrifices and consequences of clandestine political struggle. Only a real writer could do justice to such a remarkable story, and Carmen Aguirre proves up to the task at every turn--an overwhelming and inspiring read."Casey O'Neil, Elliott Bay Book Company

"Aguirre's riveting memoir chronicles her childhood as the daughter of Chilean resistance fighters. Aguirre's writing is splendid; she combines black humor and a sharp intellect and tells her powerful story in grand style."Publishers Weekly

"Most of her youthful revolutionary acts, from bringing down the mighty to plotting to assassinate Augusto Pinochet, did not come to fruition, but Aguirre is usually funny and self-deprecating rather than rueful or repentant."Kirkus REviews

"A moving, heart-racing journey through the political landscape of South America during the 70s and 80s told by a brave daughter of the Chilean resistance. An inspiration to anyone who strives to live a life of passion and purpose." Camilla Gibb, author of Sweetness in the Belly

"Aguirre's story is the personal experience of a brave young woman...Something Fierce is raw, courageously honest and funny; an insightful journey into the formation of a revolutionary soul." The Globe and Mail

"A coming-of-age story that blends birthday parties and puppy love with indoctrination in the tradecraft of subversion: how to arrange the delivery of secret documents, how to lose a police tail, how to lead a double life." Toronto Star

"Carmen writes like someone who knows how it feels to exhale with no certainty that another breath will follow...The stories that fill this book feel like the stories of several lives, not the adventurous, exhilarating and harrowing adolescence and early adulthood of one extraordinary person." National Post

"[Aguirre] has crafted a narrative packed with suspense, emotion, and dollops of sardonic humour. Even better, her searing memoir conveys the confusion and heartache of adolescence alongside the violent upheavals of Latin America during the late 1970s...Never polemical or self-pitying, Aguirre has written a crisp, dramatic account of growing up under extraordinary circumstances." Quill & Quire

"Aguirre's writing is, indeed, something fierce. That she has finally told this story is a triumph. This extraordinary book is four texts in one: a hilarious, pelvis-rocking story of a young girl on an impassioned journey into womanhood, a harrowing testament to the physical and mental labours involved in underground revolutionary work, a history of a Latin America ravaged by dictatorship and neoliberal economics, and a deeply loving memoir of a family."Karen Connelly, author of The Lizard Cage and The Dream of a Thousand Lives

"a brutally honest and wryly funny story, told through the eyes of a girl young enough to yearn for cork-soled platforms and steal kisses with boys." Georgia Straight
Advertisement