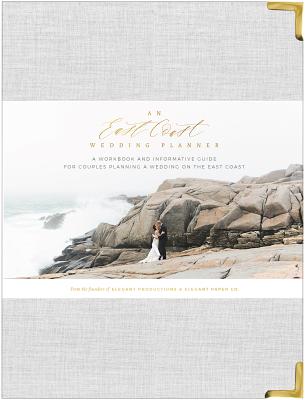 An East Coast Wedding Planner (Spiral)
A Workbook and Informative Guide for Couples Planning a Wedding on the East Coast
Nimbus Publishing (CN), 9781771086288, 240pp.
Publication Date: August 1, 2019
* Individual store prices may vary.
Description
An East Coast Wedding Planner was designed with the East Coast couple in mind. Steeped in tradition--such as the thought that every celebration should be planned while keeping the ocean at heart and that there's nothing better than a good down-home kitchen party that rocks into the wee-hours of the morning--while infusing true Maritime hospitality meaningfully. An accessible and beautiful keepsake book that brings the knowledge of a passionate East Coast wedding planner, Katelyn Bellefontaine of Elegant Productions, with practical experience planning weddings of every shape and size in Atlantic Canada for nearly a decade. Whether newly engaged and local or planning a destination wedding on the East Coast, An East Coast Wedding Planner is there for readers every step of the way, from month-by-month wedding checklists to curated questions to ask all vendors, to how to prioritize and budget for your perfect day. Includes full-colour photos of diverse East Coast weddings as well as original calligraphy from Scribble and Script.
About the Author
Katelyn Bellefontaine has been at the helm of Elegant Productions Planning & Design, orchestrating weddings of all shapes and sizes across the East Coast of Canada, since 2011. Her passions lie in helping her clients to create unique, one-of-a-kind, memorable wedding days that leave lasting impressions. Her work has been featured in print, online and on television as Elegant Productions has quickly become Atlantic Canada's most sought-after planning and design firm. Katelyn strives to continually encourage the East Coast wedding industry to reach new heights and lives for the warm and fuzzy moments while working with couples in love. Originally from Ottawa, Lisa MacPherson instructed art classes at the Visual Arts Centre in Montreal until moving to Halifax in 2012. After falling in love with East Coast she and her husband decided to stay. She has worked as the Lead Design Consultant at a boutique stationery shop providing custom wedding stationery, and continues to instruct art classes to all levels at NSCAD University's School of Extended Studies. Recently, Lisa has been focused on building Scribble and Script, a custom modern calligraphy business. Working as a graphic designer in a local stationery store for almost seven years designing custom stationery suites, Rebecca Dimock has become a driving force in the wedding invitation industry. She enjoys the challenges that come with making custom stationery and loves working with all the great inspiration clients bring. In addition to her graphic design work, she also owns a small greeting card line called Paper Chain Stationery with stockists across Nova Scotia.