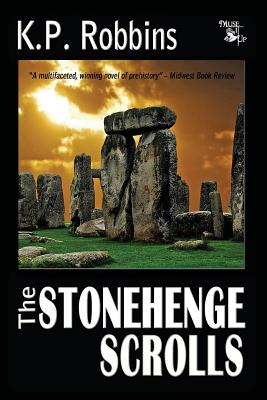 The Stonehenge Scrolls
Paperback

* Individual store prices may vary.
Description
The Stonehenge Scrolls Historical Fiction by K.P. Robbins Who built Stonehenge and why? Eleven ancient scrolls unearthed near Dublin purport to reveal the answers in this archaeology-based novel. You'll meet Myrddin, a prehistoric engineer as hard as the stones he struggles to move except when it comes to his red-haired daughter Sulis; the clan medicine woman Ogwyn, Sulis' grandmother; and the impetuous young chieftain Gwyr. But is the story they tell true? In alternating chapters of The Stonehenge Scrolls, archaeologist Maeve Haley's blog cites the evidence and speculates on the meaning of Stonehenge. "How did the Stonehenge monuments come to be? Plenty of nonfiction titles discuss possibilities, but for a fictional perspective that is compelling and involving, you can't beat the thrills and unusual perspectives of The Stonehenge Scrolls." --Midwest Book Review "I love this book. After years of her own fascination and study of the subject, Robbins makes this shrouded mystery of the past come alive. It's a great read."--accentBritain.com Rated Four Stars by Amazon Reader Reviews.
MuseItUp Publishing, 9781771275286, 133pp.
Publication Date: April 15, 2014
or
Not Currently Available for Direct Purchase