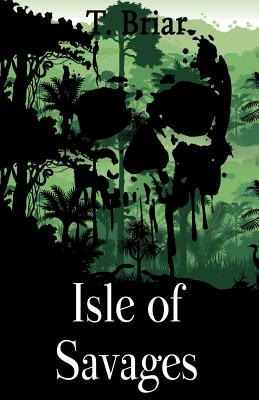 Isle of Savages
Paperback

* Individual store prices may vary.
Description
On July 20, 20- a charter school's sponsored sail from San Diego to Hawaii hits a reef during a violent storm. Sixteen souls abandon ship. Nine students, along with the hated captain and first mate, wash up on what they believe is a deserted island. Separated into three groups by circumstance and mutual distrust, treachery and death lurks for all. Over the course of a single day, one student betrays all the others. Another drowns. Two others get ambushed by a great white shark. And, like falling dominoes, the captain, first mate, and six students fall prey to a tribe of blood thirsty cannibals. In the face of almost certain death, who will escape from the isle of savages to tell the tale?
MuseItUp Publishing, 9781771279277, 226pp.
Publication Date: June 15, 2017
About the Author
The name of T. Briar is fictitious. A variation of another pseudonym for a South Georgia born writer with twelve published books to his credit. But you're not wanting to hear about Thomas or those other books, are you? No, I didn't think so. Not if you're specifically looking for a suspenseful, sitting-on-the-edge-of-your-seat action thriller novel. That's T. Briar's chosen genre, by the way. Having spent his formative years immersed in the treacherous worlds of The Savage Sword of Conan, The Warlord, and Jonah Hex comics, writing action stories was always in the back of his mind. It just took him a little while before getting around to it. Isle of Savages is T. Briar's first published novel.