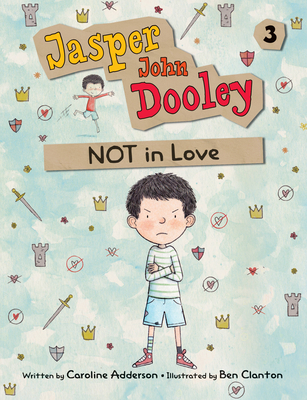 Jasper John Dooley
NOT in Love
Paperback

* Individual store prices may vary.
Description
This is the third installment in Caroline Adderson's well-reviewed, illustrated chapter book series about the adventures of the enthusiastic and extremely likable --- and poetically named --- Jasper John Dooley. Here, poor Jasper struggles to deal with the excessive attentions of his classmate Isabel, who just won't leave him alone. In the schoolyard, she badgers him and his friends Ori and Leon to play babies. In the classroom, she forces him to be her reading buddy. And, worst of all, after school, she invites him over for a playdate! When Jasper complains to his parents that he's too sick to go to her house, his dad says he must have a case of "girl-itis." However, once he arrives, Jasper is thrilled to discover Isabel has a trampoline, where he gets a "flip-floppy feeling" that is better than anything else in the world. Can Jasper find a way to keep using her trampoline and get her to stop being in love with him?This truly relatable story handles with deftness and humor the concerns and confusion elementary school children face as they try to navigate their everyday social world, particularly the issues surrounding the emerging differences between boys and girls of this age and where the lines are beginning to get drawn for their interactions with each other. It is sure to keep early readers engaged. Featuring a boy's point of view broadens the appeal. Line illustrations by Ben Clanton add depth and wit to the charming story.
Praise For Jasper John Dooley: NOT in Love…
Another chapter book that will readily brighten the day of emergent readers---or adults offering an extended read-aloud.—Kirkus Reviews - Starred Review

This short novel is a triumph of its kind, suffused with refreshing, intelligent wackiness. Each character is precisely drawn; Jasper is eccentric, enthusiastic, and realistic, and so is Isabel, with her interests in babies and marriage, trampolines, and drum sets.—Quill & Quire - Starred Review

Jasper John Dooley NOT in Love is an excellently written and humorous read-aloud chapter book for young children. They will be surprised and delighted by the story's wonderfully perfect, character-driven plot twists.—CM Magazine
Kids Can Press, 9781771383431, 132pp.
Publication Date: March 1, 2015
About the Author
Caroline Adderson lives in Vancouver, British Columbia, with her husband, her dog and the son who lied to her when he said he would always be seven.
Ben Clanton is an up-and-coming author-illustrator from Seattle who describes himself as a ?story scribbler, picture squiggler, book aficionado, child advocate, dragon tamer and avid sock wearer.? Vote for Me! is the first book he has both written and illustrated.
or
Not Currently Available for Direct Purchase