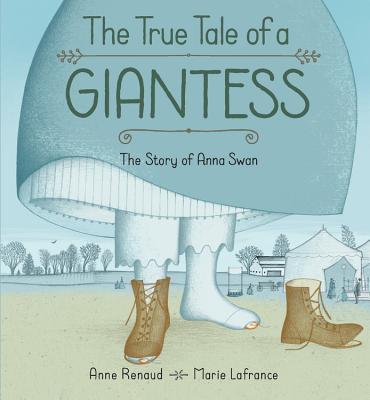 The True Tale of a Giantess (Hardcover)
The Story of Anna Swan
Kids Can Press, 9781771383769, 32pp.
Publication Date: September 4, 2018
* Individual store prices may vary.
Description
?When I was small, I was already big news,? Anna Swan tells readers in this picture book biography. When she was born in Nova Scotia in 1846, people for miles around chattered about her. They whispered over tea and gossiped across fences. Because even when she was small, Anna was TREMENDOUS. At four years old, she was higher than a rain barrel. At six, she was taller than her mother, and by ten she towered over her father. Anna grew up feeling like she poked and bulged and jutted out from all sorts of spaces, never quite fitting into her small country life. Then, at age seventeen, Anna moved to New York City to be part of P. T. Barnum's Gallery of Wonders --- and her life changed forever. Anna Swan lived an inspiring life as big as she was, filled with fame, wealth, world travel and true love.

In this thoroughly researched picture book biography, Anne Renaud uses playful and rhythmic language and first-person storytelling to perfectly capture the essence of this unique woman's uplifting life. The detailed, folk art-inspired illustrations beautifully convey the story's time and place and sensitively portray Anna's growth. A great lead-in for classroom discussions about differences and inclusion, this book also offers an excellent character education lesson on perseverance. An author's note with photographs and more information about Anna's life make this a terrific choice for lessons on personal development or for social studies lessons on this period in history.
About the Author
Anne Renaud is the author of over a dozen books for children, including Missuk's Snow Geese. Anne lives in Westmount, Quebec.
Marie Lafrance lives in Montreal, Quebec. She has provided illustrations for magazines, newspapers, posters, billboards and dozens of educational books for children. Now she primarily works on picture books, using her warm and gently humorous illustrations to delight and entertain children of all ages.