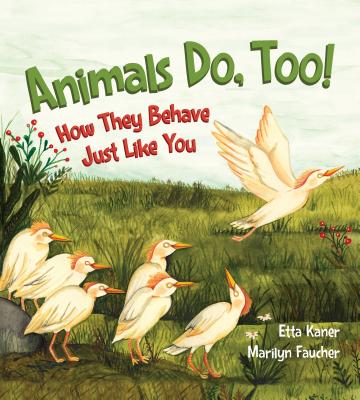 Animals Do, Too!
How They Behave Just Like You
Hardcover

* Individual store prices may vary.
Description
?Do you like to dance?? asks the first spread of this playful nonfiction picture book. ?Honeybees do, too!? responds the next. Illustrating the simple text are joyful drawings that visually connect the children enjoying a dance party to the honeybees performing their own ?dance? in the hive. A block of more in-depth text fleshes out what the honeybees are actually doing and why: their waggle dance tells other honeybees ?where to find a tasty meal.? Using this same rhythmic question-and-answer style throughout, the book compares a series of children's favorite activities to similar things that animals do. From playing tag and leapfrog (gazelles and cattle egrets) to blowing bubbles and getting piggyback rides (gray tree frogs and marmosets), there are seven activities/animals in all. And though the behaviors might look the same, while the children are playing, the animals are performing essential tasks such as finding food or caring for their young.

Award-winning author Etta Kaner has created a fun, engaging exploration of some ways animals behave just like people. By highlighting connections between human and animal behaviors, she encourages children to develop compassion for other creatures and to recognize their place within the natural world. This book would make an excellent resource for early life science lessons on the characteristics of living things, especially with the expanded information in the back matter about each of the animals found in the book. The question-and-answer pattern of the text together with Marilyn Faucher's inviting, detailed illustrations work as an entertaining, interactive read-aloud as well.
Praise For Animals Do, Too!: How They Behave Just Like You…
... a playful introduction to the fascinating topic of animal behavior.
—
Booklist
... a rich addition to the abundant genre of animal books for kids.
—
Canadian Children's Book News
... an appealing addition to an animal shelf.
—
Kirkus Reviews
Kids Can Press, 9781771385695, 32pp.
Publication Date: May 2, 2017
About the Author
Etta Kaner is a retired elementary school teacher and writer for both children and educators. Her children's books have won numerous awards, including the Silver Birch Award, the Scientific American Young Readers Book Award and the Science in Society Book Award. She lives in Toronto, Ontario.
Marilyn Faucher is an illustrator and graphic designer. Her vibrant, sensitive illustrations are inspired by nature, animals, food and bicycle adventures. She lives in Montreal, Quebec.