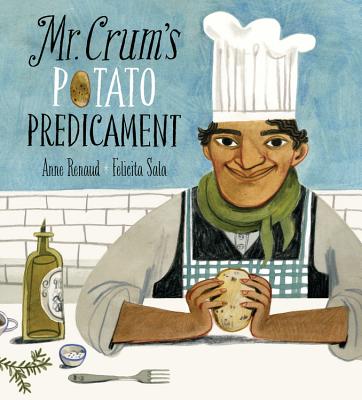 Mr. Crum's Potato Predicament (Hardcover)
Kids Can Press, 9781771386197, 40pp.
Publication Date: September 5, 2017
* Individual store prices may vary.
Description
When Filbert P. Horsefeathers walks into George Crum's restaurant, he tells the waitress, ?I have a hankering for a heaping helping of potatoes.? Fine cook that he is, George prepares a serving of his most scrumptious, succulent and sublime potato wedges, only to have Filbert send them back. ?Too thick,? he says. So, George makes thinner wedges. But his picky customer sends them back again. And again. Feeling a bit mischievous, George decides to use his sharpest knife to cut paper-thin potato slices, which he fries until they are crackling and then showers with salt. At last, Filbert is satisfied, proclaiming, ?Perfection!? Which they are. Because, quite by accident, George Crum has invented potato chips!

This fictional picture book tale by Anne Renaud is based on a real man named George Crum, a cook in Saratoga Springs, New York, in the 1850s, who is purported to have created the first potato chip in response to a demanding customer. Included at the back of the book is a historical note with a list of sources describing the legend and the remarkable and inspiring story of Crum, a trapper of mixed Native American and African American descent, who supplied restaurants with fresh game, then became a chef and successful restauranteur himself. Felicita Sala's gorgeous illustrations accurately portray the historical period but with a lighthearted touch. They work beautifully with Renaud's playful language and quirky characters for a lively and deliciously fun read-aloud. This book is an excellent choice for lessons on inventions and inventors, history, or why we eat the foods we do.
About the Author
Anne Renaud is the author of over a dozen books for children, including Missuk's Snow Geese. Anne lives in Westmount, Quebec.
Felicita is a self-taught illustrator. She studied philosophy and languages in Australia, but then decided she wanted to create pictures. Since moving to Italy, she has worked on a few stop-motion animation projects along with her husband, Gianluca, but her passion lies in making picture books. She gets inspired by nature, children, mid-century illustration, folk art and architecture. She lives in Rome with Gianluca and their daughter, Nina.
Praise For Mr. Crum's Potato Predicament…
Hyperbole and history are a recipe for fun in this tasty trickster tale.—Kirkus Reviews

The story begs to be read aloud so that listeners can savor the sound of the luscious language ...—School Library Journal