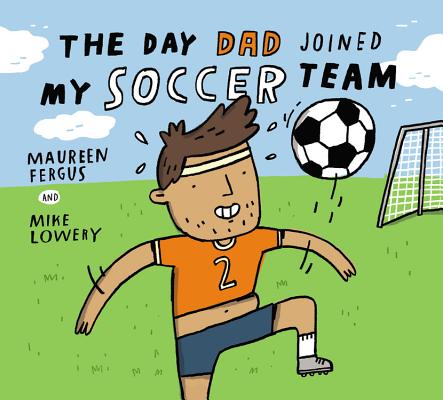 The Day Dad Joined My Soccer Team (Hardcover)
Kids Can Press, 9781771386548, 32pp.
Publication Date: April 3, 2018
* Individual store prices may vary.
Description
A soccer dad misunderstands when he hears that his son's team needs his help. Instead of taking care of halftime snacks, the dad grabs a jersey and runs onto the field to play! And what an embarrassment he is: he hogs the ball, complains about his teammates and throws a hairy fit when the referee doesn't call a play his way! Can the boy find a way to teach his dad how to be a good sport before he drives the whole team crazy?

Maureen Fergus, a Blue Spruce Award winner, has the perfect touch in crafting comic role-reversal stories. The boy gets to prove he knows more than his father --- always a hit --- but the two maintain a close and loving relationship throughout. The simple lines of Mike Lowery's art reflect the story's offbeat premise and child's point of view. With hilarious lessons on being a good sport, following the rules and having patience with others, this picture book could spark conversations about self-awareness and managing relationships. It also works for character education lessons on empathy, compassion and perseverance, and is a terrific resource for coaches of all kinds.
About the Author
Maureen Fergus is an award-winning author of books for children and young adults, including The Day My Mom Came to Kindergarten and the Buddy and Earl series of books. She lives in Winnipeg, Manitoba.
Mike Lowery has illustrated many books for children, including the The Day My Mom Came to Kindergarten and A Squiggly Story. Mike lives in Decatur, Georgia.