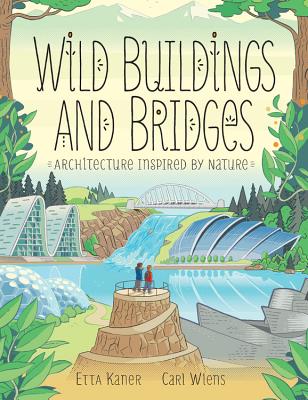 Wild Buildings and Bridges (Hardcover)
Architecture Inspired by Nature
Kids Can Press, 9781771387811, 40pp.
Publication Date: October 2, 2018
* Individual store prices may vary.
Description
From cactuses to birds' wings, termite towers to honeycombs, this book celebrates more than thirty examples of nature's influence on building and bridge designs all over the world. In some instances, architects looked to nature to solve structural problems, like creating an earthquake-proof bridge by mimicking the long roots of a type of grass known for stabilizing riverbanks. Other examples show how nature provides artistic inspiration, like the famous buildings designed by Frank Gehry that evoke the beauty of moving fish. The incredible structures in this book prove that nature and architecture are perfect partners! Sidebar biographies tell us more about these famous architects who have used nature to spectacular effect in their designs. Fun activities throughout add an interactive element, with step-by-step instructions for science experiments and a design-your-own-structure activity.

Award-winning author Etta Kaner combines science and art in this unique look at nature's influence on architecture and design. The emphasis on problem-solving and critical thinking make it an excellent choice for science and technology lessons on structures, mechanisms and engineering. The book could also be used for studying earth science and the environment, as it promotes sustainability and eco-friendly structures. Detailed and eye-catching illustrations by award-winning artist Carl Wiens help make the concepts clear and easy to understand. This book will fascinate budding architects and makers who love building and learning how things work. Includes a glossary, resources, author's sources and an index.
About the Author
Etta Kaner is a retired elementary school teacher and writer for both children and educators. Her children's books have won numerous awards, including the Silver Birch Award, the Scientific American Young Readers Book Award and the Science in Society Book Award. She lives in Toronto, Ontario.
Carl Wiens is an award-winning illustrator and printmaker who teaches illustration at Sheridan College. His work has appeared in children's books and publications such as The New York Times, The Wall Street Journal and Time magazine. Carl lives in Belleville, Ontario.