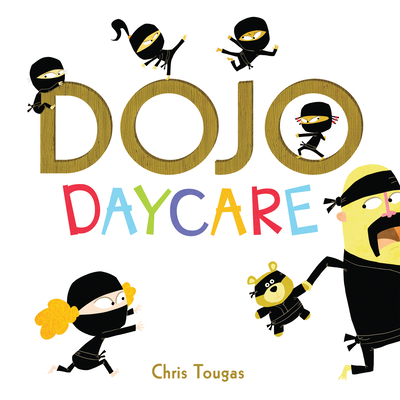 Dojo Daycare
Hardcover

* Individual store prices may vary.
Description
One morning, six young ninjas are dropped off at Dojo Daycare. As soon as their ninja moms and ninja dads have left: KABOOM KAPOW The ninja boys and girls kick, push, punch, and quickly turn the place upside down in a full-blown ninja riot. Try as he might, the hapless master can't control the children, and the disaster plays out through lunchtime and story time. No one heeds the master's repeated mantra of honor, kindness, and respect -- until one little ninja steps up and rallies his ninja pals to undo all that they have done, just in time for pickup. Digitally rendered ninjas pop off the page in this rowdy tale. Told in rhyming verse with a lively rhythm, comic expressions, and big sound effects, Dojo Daycare makes for an unbeatably riotous read-aloud story. Grade: 1
Fountas & Pinnel: J
Reading Recovery: 17
Lexile Measure: AD 760L
Common Core State Standards:
CCSS.ELA-Literacy.L.1.2,2b,4,4a,5,5a,5b,5c,6
CCSS.ELA-Literacy.RF.1.1,1a,2,3,4,4a,4b,4c
CCSS.ELA-Literacy.RL.1.1,3,4,5,7,10
CCSS.ELA-Literacy.W.1.1,3,5,8
CCSS.ELA-Literacy.SL.1.1,1a,1b,1c,2,3,4,5,6.
Owlkids, 9781771470575, 32pp.
Publication Date: September 9, 2014
About the Author
Writer and illustrator Chris Tougas loves dogs, the great outdoors, writing fun stories, and making art. He has studied art and animation in both Canada and the United States and has worked in film animation at Disney and other studios. He lives in Victoria, British Columbia.