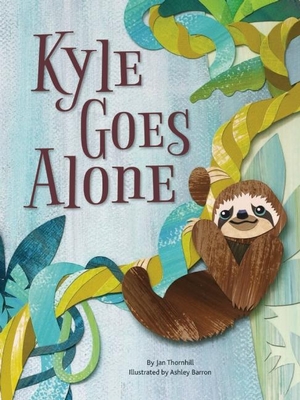 Kyle Goes Alone
Hardcover

* Individual store prices may vary.
Description
Kyle has to go. There's just one problem: as a young three-toed sloth, he lives high in the rainforest canopy with his mom, and it's a LONG way down to the forest floor. Like other sloths, Kyle only goes down to the ground once a week when he has to do his "business." And he's never made the journey by himself before. Kyle's mom says he's old enough to go alone, but Kyle isn't sure he's ready. It's so far And won't it be lonely? Unfortunately, he doesn't have much time to decide. As he descends, Kyle's worries dissipate when he discovers he's not really alone. He encounters friendly neighbors like the red-spectacled parrot, whipsnake, tiger-legged monkey tree frog and leaf-cutting ant, all camouflaged in the canopy. With encouragement from his mom, he keeps moving -- and makes it just in time. The book closes with two pages of informational text: one about three-toed sloths and the other about camouflage. Cut-paper collage art brings the rainforest canopy and all its many layers to life throughout this sweet, gently humorous story about new experiences and newfound independence.

Owlkids, 9781771470759, 32pp.
Publication Date: August 11, 2015
About the Author
Jan Thornhill's science, nature, and animal-based books have received multiple honors, including the Norma Fleck Award for Canadian Children's Non-Fiction ("I Found A Dead Bird"), the Children's Roundtable Information Book Award ("The Rumor"; "The Wildlife 123"). Two of her books, "The Wildlife ABC" and "Over in the Meadow," have been handed out to nearly 100,000 kids across Canada as part of The Learning Partnership's national Welcome to Kindergarten program.She lives in Havelock, Ontario.

Ashley Barron moved to Toronto upon graduating from The Ontario College of Art and Design's illustration program in 2007. She lives and works as an illustrator from her studio near Kensington Market. She uses paper collage to illustrate just about everything for magazines, advertising, and animation. She illustrated the "Math in Nature" series for Owlkids Books. She is an avid gardener and lover of flora and fauna, the details of which can be found in her art."