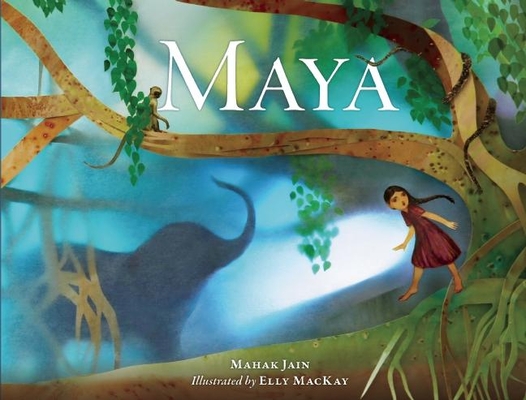 Maya (Hardcover)
Owlkids, 9781771471008, 32pp.
Publication Date: April 15, 2016
* Individual store prices may vary.
Description
The electricity in Maya's house has gone out again. Worse, she is afraid of the dark -- and her fear has been even worse since her father died. Now it feels as if the darkness will never go away. Maya's mother distracts her with a legend about the banyan tree, which saved the world from the first monsoon by drinking up the floodwaters, and growing tall and strong. Later that night, unsettled by the noises around her, Maya revisits the story in her imagination. She ventures deep into the banyan tree, where she discovers not darkness but life: snakes slither, monkeys laugh, and elephants dance. Maya pushes her imagination even further to call up memories of her father, helping to soothe her fear and grief. Elly MacKay mixes miniature-paper-theater art with spellbinding shadow puppetry to play with darkness and light, giving Maya's real, fantasy, and story-within-a-story worlds unique treatment--and making Maya's world come alive on the page.
About the Author
Mahak Jain is a writer and editor based in Toronto, Ontario. She is enrolled in the MFA in Creative Writing program at the University of Guelph. She was previously the Managing Editor at Owlkids and at Lobster Press. "Maya" is Mahak's first picture book.

Elly Mackay received her bachelor of fine art from Nova Scotia College of Art and Design. She creates her illustrations by inking YUPO(r) paper and cutting it into layers that she sets up somewhat like a Victorian Paper Theater, then plays with lights and filters to create atmosphere and photographs the scenes. She lives in Owen Sound, Ontario.