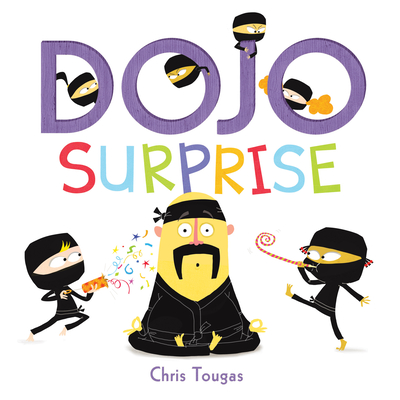 Dojo Surprise
Hardcover

* Individual store prices may vary.
Description
The six little ninjas of Dojo Daycare and Dojo Daytrip are back for a third adventure--this time, planning a surprise birthday party for their master. Stealthy as ever, the ninja girls and ninja boys tiptoe around without a noise (or so they think) as they prepare for the celebration. Meanwhile, the master is spooked by the noises and shadows he senses around him. Is there a dragon over there? It's a total dojo scare Master must be more aware. He tells himself: If I use my ears and eyes, I won't be taken by-- SURPRISE Master gasps, then laughs and cries. He can't believe his ninja eyes Streamers, poppers, candles, cake--he's delighted by the party and by the thoughtfulness of his little ninja charges. There's even a gift: a dragon-in-the-box who pops out for one last scream. Chris Tougas's digitally rendered ninjas pop off the page once again in this laugh-out-loud story. Told in rhyming verse with a playful rhythm, accompanied by hilarious illustrations and big sound effects, Dojo Surprise makes for a riotous read-aloud with a kindhearted message. LEVELING
Grade Range: PreK-3
Fountas & Pinnell: J
Reading Recovery: 17
Lexile: AD 540L COMMON CORE
RF.1.2,3,3a,3c,3f,4,4a,4b,4c
SL.1.1,1a,1b,1c,2,3,4,5,6
L.1.2,2d,2e,4,4a,4c,5,5c,5d,6
RL.1.1,2,3,4,6,7,9,10
W.1.3,5,6,7,8

Owlkids, 9781771471435, 32pp.
Publication Date: August 9, 2016
About the Author
CHRIS TOUGAS is the author-illustrator of Dojo Daycare (2014) and Dojo Daytrip (2015). Dojo Surprise is forthcoming in 2016. Chris has studied art and animation in both Canada and the United States and has worked in film animation at Disney and other studios. He now lives and works in Victoria, British Columbia. He loves dogs, the great outdoors, writing fun stories and making art.