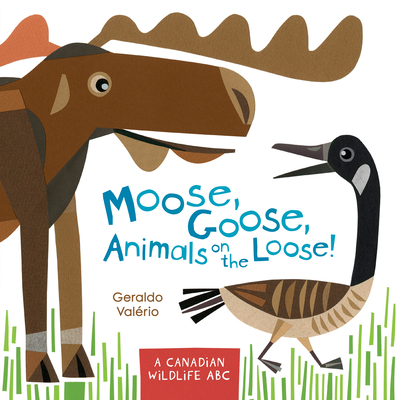 Moose, Goose, Animals on the Loose! (Hardcover)
A Canadian Wildlife ABC
Owlkids, 9781771471749, 40pp.
Publication Date: August 9, 2016
* Individual store prices may vary.
Description
Between the beaver building branch by branch, the loon laughing on the lake, and the powerful, playful polar bear, Canada is home to a spectacular array of animals. This concept book celebrates the country's diverse wildlife by presenting each letter of the alphabet alongside a representative mammal, insect, bird, reptile, amphibian, fish, or invertebrate. The creatures portrayed hail from coast to coast to coast, and reflect close research even in their stylized depictions. Short text phrases describe animal behavior and play with alliteration, making each spread fun and engaging. Paper collage artwork by Geraldo Val rio is simple yet sophisticated, full of color, movement, and touches of humor. Created with just paper, scissors, and glue, this art style will easily inspire classroom activities. Two informational spreads at the end of the book feature facts about each creature, with uppercase and lowercase letters repeated for additional comprehension. This cross-curricular book is an educational and visual delight designed to appeal across the trade, institutional, gift, and tourist markets. LEVELING
Grade Range: PreK-1
Fountas & Pinnell: LB
Lexile: NP COMMON CORE
RI.K.1,2,3,4,5,6,7,9,10
RL.K.1,4,5,6,7,10
L.K.1,1a,1b,1c,1f,4,4b,5,5c,6
RF.K.1,1d,3,3a,4
SL.K.1,1b,2,3,4,5,6
W.K.2,3,5,6,7,8

About the Author
GERALDO VALERIO was born in Brazil and is now a Canadian citizen living in Toronto. He graduated from the School of Fine Arts at the Federal University of Minas Gerais, and in 2000 received a Master of Arts degree from New York University. He has illustrated more than 20 picture books for publishers in Canada, the United States, Portugal and Brazil.
or
Not Currently Available for Direct Purchase