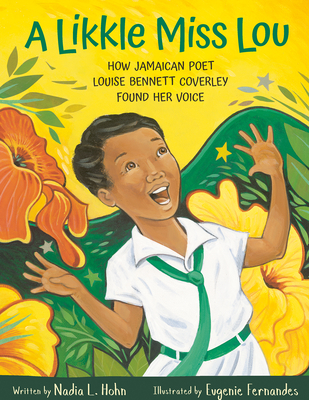 A Likkle Miss Lou (Hardcover)
How Jamaican Poet Louise Bennett Coverley Found Her Voice
Owlkids, 9781771473507, 32pp.
Publication Date: August 13, 2019
* Individual store prices may vary.
Description
Jamaican poet and entertainer Louise Bennett Coverley, better known as "Miss Lou," played an instrumental role in popularizing Jamaican patois internationally. Through her art, Miss Lou helped pave the way for other poets and singers, like Bob Marley, to use patois in their work. This picture book biography tells the story of Miss Lou's early years, when she was a young girl who loved poetry but felt caught between writing "lines of words like tight cornrows" or words that beat "in time with her heart." Despite criticism from one teacher, Louise finds a way to weave the influence of the music, voices, and rhythms of her surroundings into her poems. A vibrant, colorful, and immersive look at an important figure in Jamaica's cultural history, this is also a universal story of a child finding and trusting her own voice. End matter includes a glossary of Jamaican patois terms, a note about the author's "own voice" perspective, and a brief biography of Miss Lou and her connection to Canada, where she spent 20 years of her life.
About the Author
NADIA HOHN is a classroom teacher, presenter, and award-winning author of the picture books Malaika's Costume and Malaika's Winter Carnival. Named by CBC as one of the top Black Canadian Writers to Watch in 2018, Nadia holds degrees from the University of Waterloo and OISE. She lives in Toronto, Ontario. EUGENIE FERNANDES grew up painting with her father, comic-book illustrator Creig Flessel. Since graduating from the School of Visual Arts in New York City, she has illustrated numerous critically acclaimed picture books, has written 18 stories and illustrated over 100 books for children. Having lived on islands for all her life, Eugenie now lives and works on a small island in southern Ontario.