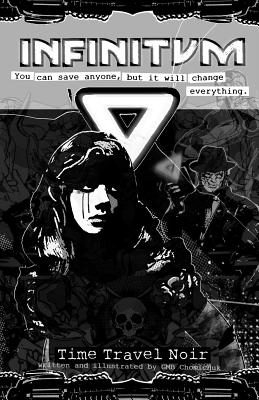 Infinitum (Paperback)
Time Travel Noir
Chigraphic, 9781771483247, 136pp.
Publication Date: May 19, 2015
* Individual store prices may vary.
Description
The Infinitum are a future society of people and aliens displaced to our past. Special Investigator Nine works in The Paradox Bureau, an agency that polices the temporal diaspora and prevents crimes before they happen. Nine is sent on assignment to the 1940s and must avoid altering his own past while investigating a seemingly unpreventable murder.
About the Author
GMB Chomichuk is a Canadian writer, teacher, mixed media artist, graphic novelist and proud Winnipegger. He won the Manitoba Young Writers Award when he was 15, and the Manitoba Book Award for Best Illustrated Book in 2011 for his graphic novel serial THE IMAGINATION MANIFESTO. His experimental scifi graphic novel experiment RAYGUN GOTHIC was nominated for Canada's Best Graphic Novel and Best Illustrator by the Canadian Science Fiction & Fantasy Association. You can find his fiction in FRACTURED: TALES OF THE CANADIAN POSTAPOCALYPSE and his illustrations accompanying many stories in LONG HIDDEN: SPECULATIVE FICTION FROM THE MARGINS OF HISTORY. His newest graphic novel INFINITUM has just been released with ChiZine Publications, and he has collaborated with Chasing Artwork's Justin Currie on a children's book, CASSIE & TONK, which won the 2014 Manitoba Book Award for Best Illustrated Book.