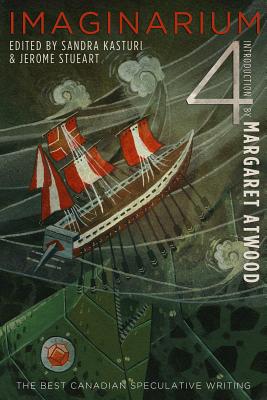 Imaginarium 4 (Paperback)
The Best Canadian Speculative Writing
Chizine Publications, 9781771483384, 400pp.
Publication Date: December 2, 2015
* Individual store prices may vary.
Description
Imaginarium 4: The Best Canadian Speculative Writing is a reprint anthology collecting speculative short fiction and poetry (science fiction, fantasy, horror, magic realism, etc.) that represents the best work published by Canadian writers in the 2014 calendar year.
Featuring Kelley Armstrong, Margaret Atwood, Courtney Bates-Hardy, Greg Bechtel, Jocko Benoit, Jeremy Butler, Siobhan Carroll, Peter Chiykowski, Eric Choi, Suzanne Church, David Clink, A.M. Dellamonica, Cory Doctorow, Puneet Dutt, Amal El-Mohtar, Gemma Files, Zsuzsi Gartner, Neile Graham, Lisa L. Hannett, Shivaun Hoad, Ada Hoffman, Nalo Hopkinson, Louisa Howerow, Matthew Hughes, Matthew Johnson, Catherine MacLeod, Helen Marshall, Matt Moore, Silvia Moreno-Garcia, David Nickle, Rhonda Parrish, Tony Pi, Ranylt Richildis, Holly Schofield, Trevor Shikaze, Kate Story, Jean-Louis Trudel, Peter Watts, A.C. Wise, and Rio Youers.
About the Author
Sandra Kasturi is a poet, writer and editor, and the co-publisher of the World Fantasy Award-nominated and British Fantasy Award-winning press, ChiZine Publications. Born in Estonia to an Estonian mother and Sri Lankan father, she now lives in Canada. She is the co-founder (with Helen Marshall) of the Toronto SpecFic Colloquium and the national Chiaroscuro Reading Series. Sandra's work has appeared in various venues, including ON SPEC, Prairie Fire, several Tesseracts anthologies, Evolve, Chilling Tales, A Verdant Green, TransVersions, ARC Magazine, Taddle Creek, Abyss & Apex, 80! Memories & Reflections on Ursula K. Le Guin, and Stamps, Vamps & Tramps. Her two poetry collections are: The Animal Bridegroom (with an intro by Neil Gaiman) and Come Late to the Love of Birds. She is currently working on two books: a new poetry collection called Snake Handling for Beginners, as well as a story collection, Mrs. Kong & Other Monsters. She is fond of gin & tonics, Michael Fassbender and red lipstick. Jerome Stueart: Jerome Stueart is a writer of science fiction, fantasy and memoir. He is a Milton Center fellow, Lambda Literary Workshop for Emerging LGBT Voices fellow, and graduate of the Clarion Writers Workshop, San Diego. Jerome's work has appeared in Fantasy, Strange Horizons, Geist, Queers Destroy Science Fiction (from Lightspeed), On Spec, Joyland, Geez, Queerwolf, Evolve, as well as three of the Tesseracts anthology series of Canadian Science Fiction and Fantasy and was a runner up to the Fountain Award. He was the co-editor of Tesseracts 18: Wrestling with Gods, a collection of scifi/fantasy stories where characters wrestle with Faith. He has written 5 radio series for CBC North, one of which, Leaving America, was heard round the world on Radio Canada International. His sketches of his train trip across Canada can be found in Geist in 2015. His first novel, One Nation Under Gods, will be published by ChiZine Publications, late 2016. His collection of stories, The Angels of Our Better Beasts follows in 2017. He lived in Whitehorse, Yukon for nearly 10 years, became a Canadian citizen, and, then, much to his surprise, recently moved to Ohio for the love of a bear. He currently makes his home between Whitehorse, Yukon and Dayton, Ohio.