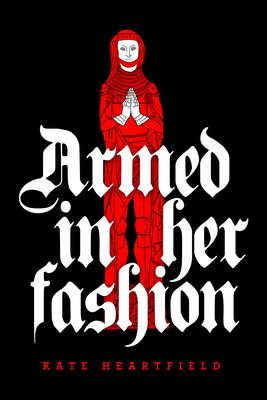 Armed in Her Fashion
Paperback

* Individual store prices may vary.
Description
"The novel is written with arresting detail and challenges literary tropes about women. Its roster includes half a dozen complex female characters and one trans male character, all of them captivating, sympathetic, repulsive, flawed, dangerous, selfless, determined, and damaged. They and Heartfield's powerful battle scenes make this well worth the price of admission." --Publishers Weekly (starred review)
In 1328, Bruges is under siege by the Chatelaine of Hell and her army of chimeras--humans mixed with animals or armour, forged in the deep fires of the Hellbeast. At night, revenants crawl over the walls and bring plague and grief to this city of widows. Margriet de Vos learns she's a widow herself when her good-for-nothing husband comes home dead from the war. He didn't come back for her. The revenant who was her husband pulls a secret treasure of coins and weapons from under his floorboards and goes back through the mouth of the beast called Hell. Margriet killed her first soldier when she was 11. She's buried six of her seven children. She'll do anything for her daughter, even if it means raiding Hell itself to get her inheritance back. Margriet's daughter is haunted by a dead husband of her own, and blessed, or cursed, with an enchanted distaff that allows her to control the revenants and see the future. Together with a transgender man-at-arms who has unfinished business with the Chatelaine, a traumatized widow with a giant waterpowered forgehammer at her disposal, and a wealthy alderman's wife who escapes Bruges with her children, Margriet and Beatrix forge a raiding party like Hell has never seen.
Chizine Publications, 9781771484527, 352pp.
Publication Date: May 22, 2018
About the Author
Kate Heartfield is the author of dozens of speculative-fiction stories, including "The Seven O'Clock Man", which was longlisted for the Sunburst Award. Her interactive novel The Road to Canterbury is coming soon from Choice of Games. Her novella The Course of True Love was published in 2016 as part of the Shakespearean fantasy collection Monstrous Little Voices from Abaddon Books. Kate grew up in Manitoba, lived for a year in Belize and now lives in rural Ottawa with her partner and their son. A former newspaper editor, she now makes her living as a freelance editor, teacher and writer.
or
Not Currently Available for Direct Purchase