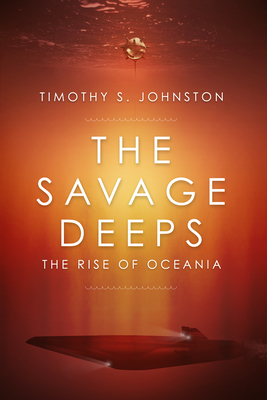 The Savage Deeps (Paperback)
Chizine Publications, 9781771485067, 300pp.
Publication Date: January 21, 2020
Other Editions of This Title:
Hardcover (11/19/2019)
* Individual store prices may vary.
Description
War has come to the darkest depths of the deepest oceans.
Mayor Truman McClusky of Trieste City is at war with the world's superpowers. Laying claim to the resources of the ocean and its floor is the only way to survive in a world where global warming and rising sea levels ravage the surface. But when a Trieste City spy ends up dead--his body beaten beyond recognition--Mac realizes that his city is in mortal danger. The occupying force in Trieste knows more about his plans for independence than he thought, and they will stop at nothing to control Trieste and her people.
Mac flees with a small team that includes scientist and newcomer to the underwater city, Dr. Manesh Lazlow. Together they head for a secret base in the Mid-Atlantic Ridge where they plan to create new technologies to fight the superpowers for dominance over the oceans. But the French have picked up Mac's scent and will stop at nothing to kill him. Mac must elude the French, protect his citizens against sabotage and spycraft, and discover the identity of a spy in his midst if he is going to save his city and compete with the superpowers. But he's just a tiny player in the grand scheme of ocean politics . . .
. . . unless he can get his new deep-sea engine working. With it he'll be able to forge deeper than any other sub in the oceans. And if that happens, then all hell is about to break loose.
At six kilometers down.
About the Author
Timothy S. Johnston is a lifelong fan of thrillers and science fiction thrillers in both print and film. His greatest desire is to contribute to the genre which has given him so much over the past four decades. He wishes he could personally thank every novelist, screenwriter, filmmaker, director and actor who has ever inspired him to tell great stories. He has been an educator for twenty years and a writer for thirty. He lives on planet Earth, but he dreams of the stars. Visit www.timothysjohnston.com to register for news alerts, read his blog and reviews, and learn more about his current and upcoming thrillers. Timothy is the author of The War Beneath and The Savage Deeps. His futuristic murder mystery/thrillers include The Furnace, The Freezer, and The Void. Follow Timothy on Facebook @TSJAuthor and Twitter @TSJ_Author.