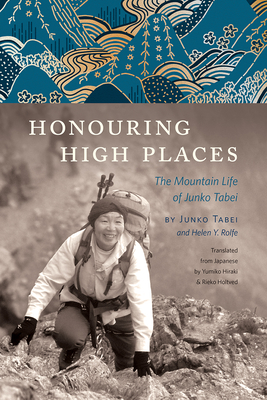 Honouring High Places
The Mountain Life of Junko Tabei
Hardcover

* Individual store prices may vary.
Description
A collection of personal stories and reflections based on the memoirs of Junko Tabei, the first woman to climb Mount Everest and the Seven Summits.
Honouring High Places is a compelling collection of highlights from Junko Tabei's stirring life that she considered important, inspiring and interesting to mountaineering culture. Until now, her works have been available only in Japanese, and RMB is honoured to be sharing these profound and moving stories with the English-speaking world for the first time.
The collection opens on Mount Everest, where the first all-women's expedition is met with disaster but pushes on against all odds. The story then shifts to the early years of Tabei's life and reflects on her countryside childhood as a frail girl with no talent for sport, and cultural expectations that ignored her passion for mountains.
With reminiscences of the early days of female climbers on Everest, the deaths of fellow mountaineers, Tabei's pursuit of Mount Tomur, a cancer diagnosis, and efforts to restore a love for nature in the surviving youth of the Fukushima earthquake and tsunami that hit Japan in 2011, this beautifully curated collection of essays captures the essence of a notable time and the strength of character of one of the 20th and 21st centuries' female mountaineering pioneers.
Rocky Mountain Books Incorporated, 9781771602167, 376pp.
Publication Date: December 7, 2017
About the Author
Junko Tabei (1939-2016) was born in Miharu, a small town in Fukushima prefecture, north of Tokyo. An amazing mountaineer and lover of peaks, she founded the Ladies Climbing Club in 1969 and reached the summit of Everest on May 16, 1975, as leader of an all-women Japanese team. After Everest, Tabei devoted her adult life to climbing the world's highest peaks, including the Seven Summits. In 1999 she received the Snow Leopard Award for completing the five 7000-metre-plus mountains in the former Soviet Union, and climbed the tallest mountains in more than 70 countries. To remain committed to her passion for climbing, Junko defied cultural expectations of motherhood and enjoyed a 49-year marriage to an incredibly supportive husband. They were a family of four: one daughter and one son. Deeply concerned about the degradation of Mount Everest, Junko established the Himalayan Adventure Trust of Japan in 1990, the Japanese version of Sir Edmund Hilary's Himalayan Trust. She was also a published author of numerous mountaineering books. In 2000, at age 60, she completed her master's studies at Kyushu University in southern Japan, based on the refuse problem on Everest that results from overcrowding by climbers. Junko reached 7000 metres on Mt. Manaslu at age 66 (having been forced to retreat due to poor weather), and continued to climb even after being diagnosed with cancer in 2012. She celebrated the 40th anniversary of her Everest success with a hiking trip to Tengboche, Nepal, on the familiar route to Base Camp, in September 2015. The last summit Junko reached was Japan's Mt. Fuji (3010 metres) in July 2016. The climb was in support of high school students affected by the 2011 Tohoku earthquake and tsunami that devastated the area. Junko Tabei passed away on October 20, 2016, and is survived by her beloved husband, Masanobu Tabei, daughter Noriko and son Shinya, as well as other relatives and countless friends.