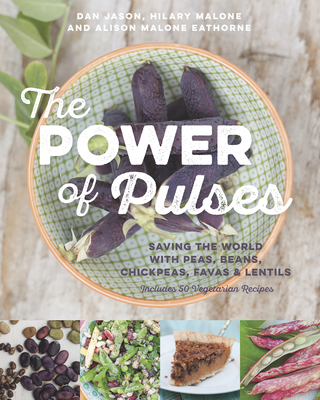 The Power of Pulses (Paperback)
Saving the World with Peas, Beans, Chickpeas, Favas and Lentils
Douglas & McIntyre, 9781771621021, 240pp.
Publication Date: May 10, 2016
* Individual store prices may vary.
Description
For those who are committed to increasing self-reliance and supporting locally available food sources, pulses are an often-overlooked source of ethical protein. Dan Jason, owner of Salt Spring Seeds, is a long-time advocate of pulses as a healthy and environmentally responsible alternative to meat and tofu. In The Power of Pulses, Jason provides tips on how North American home gardeners can grow and save their own delicious, vividly hued heirloom beans, peas, chickpeas, lentils and favas. As well as being incredibly versatile in the kitchen, pulses are also rich in fiber, high in vitamin B, gluten-free and remarkably low on the glycemic index--contributing to good health and helping to reduce the risk of diabetes, heart disease and other chronic illnesses. In The Power of Pulses, talented foodie-sister team Hilary Malone and Alison Malone Eathorne collaborate with Jason to create 40+ vegetarian recipes featuring fresh and inventive uses for the garden's bounty, including Broad Bean Succotash with Fresh Ricotta and Poached Eggs on Toast, Crispy Chickpea Power Bowl with Kale, Quinoa and Dukkah Crunch and even Black Bean Brownies with Espresso Ganache. Vibrantly illustrated, this exciting garden-to-kitchen volume is sure to inspire readers to harness the power of pulses.
About the Author
Dan Jason lives on Salt Spring Island, BC, where he founded the mail-order seed company Salt Spring Seeds. He has written many bestselling books about growing and preparing food sustainably, including The Whole Organic Food Book and Saving Seeds as if Our Lives Depended on It. Hilary Malone holds a Diploma in Culinary Arts from Vancouver Island University and is co-owner (with Alison) of Sea Salt Food Company, a boutique catering and recipe development business. Hilary is also co-author of Sea Salt: Recipes from the West Coast Galley. She lives in Nanaimo, BC. Alison Malone Eathorne is a freelance travel and food writer and has contributed to various publications including Pacific Yachting, Western Living and BC Home. She is co-author of the award-winning Sea Salt: Recipes from the West Coast Galley. She lives in Nanaimo, BC.