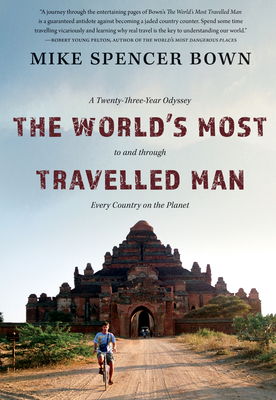 The World's Most Travelled Man (Hardcover)
A Twenty-Three-Year Odyssey to and Through Every Country on the Planet
Douglas & McIntyre, 9781771621427, 352pp.
Publication Date: April 17, 2018
* Individual store prices may vary.
Description
"This is the account of twenty-three years of wilderness wandering, sea voyages and overland treks to survey the earth, with no home or possessions other than what fit in my trusty backpack. There was no specific destination in mind except to visit countries, not the airports and luxury hotels but the country itself, to experience local culture and ways of life. This entailed sleeping in tribesmen's huts and cheap hostels and using local transportation whenever possible: traversing jungle roads packed eighteen souls to a single Peugeot station wagon in Guinea-Bissau, boating the length of the Amazon snacking on roasted piranha, and hitchhiking across Iraq during the war. I've floated on dilapidated ferries across surging estuaries, ridden horseback or in military trucks across deserts and plains, followed the course of rivers, crossed wastelands, bused and trekked through deep jungle, traversed mountain ranges and lounged on the remotest beaches. I adopted local customs and ate local food: roasted goat's eye as the guest of honour at a Mongolian tribal feast, alligator nuggets, mystery kabobs, 'bush meat' ubiquitous to certain regions of Africa ... but drew the line at wheelbarrows brimming over with smoked monkey corpses. A man's got to know his limitations." --Mike Spencer Bown
In 1990, Calgary-raised Mike Spencer Bown packed a backpack and began a journey that would eventually take him through each of the world's 195 countries and span more than two decades. From relaxing on the white sand beaches of Bali to waiting out blizzards in Tibetan caves, Bown trekked from country to country, driven by a desire to see the world in the most authentic way possible, not to just collect stamps on his passport. Eventually, he began to earn international recognition for some of his more unconventional destinations--such as a memorable trip to war-torn Mogadishu.
The World's Most Travelled Man is an eye-opening account of the universal human experience as seen from each corner of the changing world. Blending a romantic connection to nature through solitude and the social examination of culture, Bown fully immerses himself in each experience, however diverse, dangerous or dirty, veering way, way off the backpacker circuit to see the world through an unparalleled perspective. The World's Most Travelled Man is a journey of global proportions shared with the humility of a man who simply wants to satisfy his own curiosity and live life to the fullest.