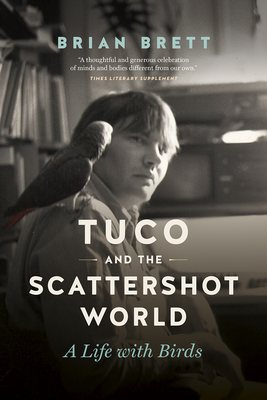 Tuco and the Scattershot World (Paperback)
A Life with Birds
Greystone Books, 9781771643009, 344pp.
Publication Date: August 26, 2018
Other Editions of This Title:
Hardcover (10/13/2015)
* Individual store prices may vary.
Description
For thirty years, Brian Brett shared his office and his life with Tuco, a remarkable parrot given to asking such questions as "Whaddya know?" and announcing "Party time " when guests showed up at Brett's farm. Although Brett bought Tuco on a whim as a pet, he gradually realizes the enormous obligation he has to the bird and learns that the parrot is a lot more complex than he thought. Simultaneously a biography of this singular bird and a history of bird/dinosaurs and the human relationship with birds, Tuco also explores how we "other" the world--abusing birds, landscapes, and each other--including Brett's own experience with a rare genetic condition that turned his early years into an obstacle course of bullying and nurtured his affinity for winged creatures. The book also provides an in-depth examination of our ideas about knowledge, language, and intelligence (including commentary from Tuco himself) and how as we learn more about animal languages and intelligence we continually shift our definitions of them in order to retain our "superiority." As Brett says, "Whaddya know? Not much. I don't even know what knowledge is. I know only the magic . . . and the mysteries." By turns provocative, profound, hilarious, and deeply moving, this fascinating memoir will remain with the reader long after the last page has been turned.
About the Author
Brian Brett is an acclaimed poet and the author of numerous books, including Trauma Farm, which won the 2009 Writers' Trust of Canada Nonfiction Prize, and Tuco, A BBC Book Club Pick.