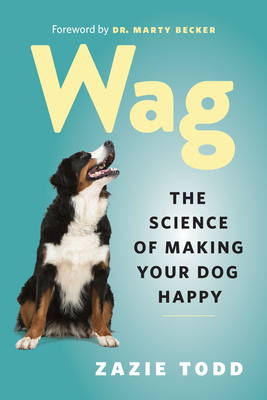 Wag (Paperback)
The Science of Making Your Dog Happy
Greystone Books, 9781771643795, 304pp.
Publication Date: March 10, 2020
* Individual store prices may vary.
Description
"Zazie Todd does dogs the immeasurably good favor of taking their happiness seriously. Todd is dialed in to the science of dogs and a thoughtful trainer of dogs. Everything she writes about, you want to know. Wag is a welcome addition to the books geared to helping you help your dog."
--Alexandra Horowitz, author of Our Dogs, Ourselves: The Story of a Singular Bond
"If you care about your dog, you need this book. It's packed with insights from the latest canine science, and loads of advice about how you can give your dog the happiest life possible."--Dr. John Bradshaw, author of Dog Sense (In Defence of Dogs in the UK)
A psychologist and respected dog trainer shares the secrets to a happy pooch.
Did you know that seemingly noiseless electronics may be upsetting your dog? Or that letting her sniff the breeze is one of the best gifts you can give her?
Wag bridges the gap between human and canine by demystifying the inner lives of dogs to share evidence-based advice for making them happy. Acclaimed blogger Zazie Todd distills the latest canine science and shares recommendations from leading veterinarians, researchers, and trainers to cultivate a rewarding and respectful relationship with your dog--which offers many benefits for you, your family, and your four-legged friend.
About the Author
Zazie Todd is a social psychologist, certified dog trainer, and founder of the popular blog Companion Animal Psychology, where she writes about everything from training methods to the human-canine relationship. She also writes a column for Psychology Today and has received the prestigious Captain Haggerty Award for Best Training Article in 2017. Todd lives in Maple Ridge, BC, with her husband, one dog, and two cats. Dr. Marty Becker--also known as "America's Veterinarian"--is the author of multiple New York Times bestsellers and serves on the Board of Directors and as Chief Veterinary Correspondent for the American Humane Society.