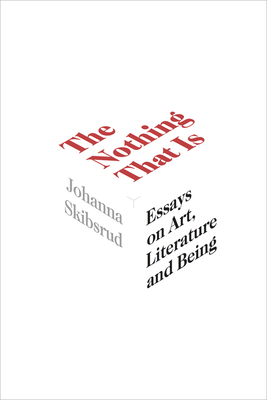 The Nothing That Is (Paperback)
Essays on Art, Literature and Being (Essais #9)
Book*hug Press, 9781771665261
Publication Date: October 1, 2019
* Individual store prices may vary.
Description
Written over a period of more than a decade, The Nothing That Is is a collection about the very concept of "nothing," approached from a variety of angles and in a variety of ways.
Addressing a broad range of topics and works by contemporary writers and artists, these essays seek to decentre our relationship to both the "givenness" of history and to a predictive or probable model of the future. They do so by drawing attention to the ways that poetic language activates the multiple, and as yet undesignated, possibilities replete within our every moment, and within every encounter between a speaking "I" and what exceeds subjectivity--a listening "Other," be it community or the objective world.
Praise for Johanna Skibsrud:
"It is exhilarating to join a writer working at these bracing heights." --Washington Post
About the Author
Johanna Skibsrud is a novelist, poet and Assistant Professor of English at the University of Arizona. Her debut novel, The Sentimentalists, was awarded the 2010 Scotiabank Giller Prize, making her the youngest writer to win Canada's most prestigious literary prize. The book was subsequently shortlisted for the Commonwealth Book Award and is currently translated into five languages. The New York Times Book Review describes her most recent novel, Quartet for the End of Time (Norton 2014) as a "haunting" exploration of "the complexity of human relationships and the myriad ways in which identity can be malleable." "It is exhilarating", writes the Washington Post, "to join a novelist working at these bracing heights." Johanna is also the author of two collections of short fiction: This Will Be Difficult to Explain (2011; shortlisted for the Danuta Gleed Award) and Tiger, Tiger (2018), a children's book, and three books of poetry. Her latest poetry collection, The Description of the World (2016), was the recipient of the 2017 Canadian Author's Association for Poetry and the 2017 Fred Cogswell Award. Johanna's poems and stories have been published in Zoetrope, Ecotone, and Glimmertrain Magazine, among numerous other journals. Her scholarly essays have appeared in, among other places, The Luminary, Excursions, Mosaic, TIES, and The Brock Review. A critical monograph titled The Poetic Imperative: A Speculative Aesthetics is forthcoming. A novel, Island, will also be published by Hamish Hamilton Canada in fall 2019.