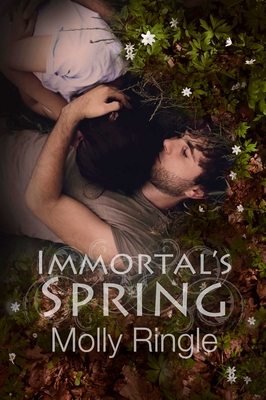 Immortal's Spring (The Chrysomelia Stories) (Paperback)
Central Avenue Publishing, 9781771680400, 448pp.
Publication Date: June 1, 2016
* Individual store prices may vary.
Description
Sophie Darrow said yes once to a young man offering a realm of Greek gods and immortality. Now her home has been shattered, and her friends and family pulled along with her as they run from an evil cult and take shelter in the gloomy Underworld. To love, trust, and smile again seems almost out of Sophie's reach. But remembering the life of the original Persephone and her fellow immortals long ago may prove the best therapy, as well as their key to victory. In ancient times too, the murderous cult Thanatos attacked and eventually wiped out the Greek immortals who sought to bring good to humankind. But those immortals planted seeds in both their realm and ours to ensure that their season would bloom again someday. And spring is finally coming.
About the Author
Molly Ringle became fascinated with the colorful weirdness of the Greek myths when she was a kid, and she finally wrote the Persephone-and-Hades story that had been evolving in her head all those years. She surprised herself when that story became a sweeping three-book series called The Chrysomelia Stories, including Persephone's Orchard, Underworld's Daughter, and Immortal's Spring. She lives in the Pacific Northwest with her husband and sons.
Praise For Immortal's Spring (The Chrysomelia Stories)…
"This was a beautiful story, and I'm really excited to see how it unfolds in future installments of the series." —Kaitlin Bevis, author of Persephone
"Captivating from start to finish, as fraught with intrigue as it is with romance, this is the perfect end to an unforgettable trilogy." —Jamie Deacon, author, Caught Inside
"I read Persephone's Orchard a year ago and it still remains one of the most unique and engaging retellings of the Hades and Persephone myth I've ever read." —Rachel Alexander, author, Receiver of Many
"The lion's share of this final volume is a slow boil, but while there's more introspection than in previous volumes, Ringle provides a thoroughly satisfying thread-tying conclusion." —Publishers Weekly
"Immortal's Spring pulls readers right back into this reimagining of the Greek myths and emergence of modern-day gods and goddesses, and this novel is just as hard to put down as the previous two." —Holly Scudero, San Francisco Book Review
or
Not Currently Available for Direct Purchase