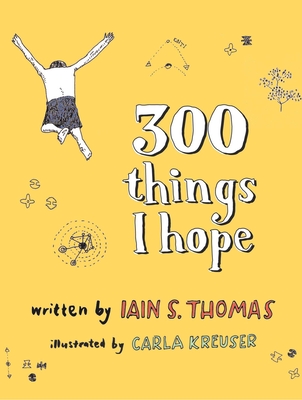 300 Things I Hope (Paperback)
Central Avenue Publishing, 9781771680462, 288pp.
Publication Date: October 1, 2016
Description
From Iain S. Thomas, the creator of I Wrote This For You, and artist Carla Kreuser comes a collection of 300 things they truly and sincerely hope for you: from wishing you always have a pen, to hoping you're never lonely, and everything in-between.This collection of inspiring prose and illustrations will move you, and remind you of what's important in life as you live it. Or, that's what they hope.
About the Author
Iain S. Thomas is a new media artist and author. As an author, his most famous work is I Wrote This For You - which he writes under the pseudonym pleasefindthis - a blog then book that s been onpoetry bestseller lists since its launch in 2011. He regularly writes for The Huffington Post on poetry, creativity and life and currently lives in Cape Town, South Africa.Carla Kreuser is a graphic designer, and sometimes poet, with a penchant for horror stories and binding her own illustrated books by hand. She grew up in Pretoria, but currently lives closer to the sea in Cape Town, where she met poet Iain Thomas. In her spare time, she fills her sketchbooks by exploring the city on foot andpeople-watching."
Advertisement