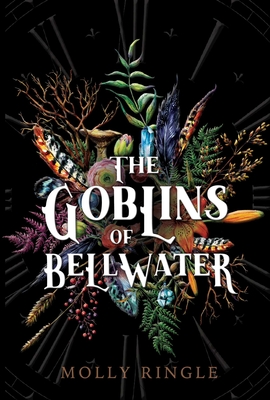 The Goblins of Bellwater
Paperback

* Individual store prices may vary.
Description
Most people have no idea goblins live in the woods around the small town of Bellwater, Washington. But some are about to find out.

Skye, a young barista and artist, falls victim to a goblin curse in the forest one winter night, rendering her depressed and silenced, unable to speak of what happened. Her older sister, Livy, is at wit's end trying to understand what's wrong with her. Local mechanic Kit would know, but he doesn't talk of such things: he's the human liaison for the goblin tribe, a job he keeps secret and never wanted, thrust on him by an ancient family contract.

Unaware of what's happened to Skye, Kit starts dating Livy, trying to keep it casual to protect her from the attention of the goblins. Meanwhile, unbeknownst to Kit, Skye draws his cousin Grady into the spell through an enchanted kiss in the woods, dooming Grady and Skye both to become goblins and disappear from humankind forever.

It's a midwinter night's enchantment as Livy, the only one untainted by a spell, sets out to save them on a dangerous magical path of her own.

Molly Ringle's growing list of other successful titles include:

The Chrysomelia Stories
1. Persephone's Orchard
2. Underworld's Daughter
3. Immortal's Spring

All the Better Part of Me
Lava Red Feather Blue
Sage and King
Praise For The Goblins of Bellwater…
"The lion's share of this final volume is a slow boil, but while there's more introspection than in previous volumes, Ringle provides a thoroughly satisfying thread-tying conclusion." —Publishers Weekly



"Immortal's Spring pulls readers right back into this reimagining of the Greek myths and emergence of modern-day gods and goddesses, and this novel is just as hard to put down as the previous two." —San Francisco Book Review 


"If you want a book that will challenge, excite and enthrall you, then this might be the book for you." —Long and Short Reviews

"This was a beautiful story, and I'm really excited to see how it unfolds in future installments of the series." —Kaitlin Bevis, author, Persephone

"Captivating from start to finish, as fraught with intrigue as it is with romance, this is the perfect end to an unforgettable trilogy." —Jamie Deacon, author, Caught Inside

"I read Persephone's Orchard a year ago and it still remains one of the most unique and engaging retellings of the Hades and Persephone myth I've ever read." —Rachel Alexander, Author of Receiver of Many

"The touches of pagan culture and elemental magic are perfectly applied, giving the modern setting an old-world, surreal flavor." —Olivia Fields, author, Her Heart's Liege

"Ringle's novel is fast-paced and sparkling with dangerous spells and unexpected delights. The goblins aren't ethereal and magical; they don't sparkle, shimmer, or shine. They repulse and draw you in — all at the same time." —Kate Ristau, author, Shadow Girl and Clockbreakers

"This story cast just as much of a spell over me as the goblins cast over Skye. Once I entered Molly's beautifully crafted world where magic and reality mingled, I didn't want to leave!" —Rachel Morgan, author, the Creepy Hollow series

"The Goblins of Bellwater is a delightfully creepy paranormal romance set in the rich landscape of the Pacific Northwest . . . a journey to a world that feels both familiar and freaky—a wonderful place to get lost." —Claire Foster, Foreword Reviews
Central Avenue Publishing, 9781771681179, 288pp.
Publication Date: October 1, 2017
About the Author
Molly Ringle was one of the quiet, weird kids in school, and is now one of the quiet, weird writers of the world. She likes thinking up innovative romantic obstacles and mixing them with topics like Greek mythology, ghost stories, fairy tales, or regular-world scandalous gossip. She's into mild rainy climates, gardens, '80s new wave music, chocolate, tea, and perfume (or really anything that smells good). She has lived in the Pacific Northwest most of her life, aside from grad school in California and one work-abroad season in Edinburgh in the 1990s. Many of her previous novels have involved urban fantasy, paranormal romance, or fictional countries, but Sage and King is her first proper high fantasy. Molly currently lives in Seattle with her husband, kids, guinea pigs, corgi, and a lot of moss. Her growing list of successful titles include:

The Chrysomelia Stories
1. Persephone's Orchard
2. Underworld's Daughter
3. Immortal's Spring

The Goblins of Bellwater
All the Better Part of Me
Lava Red Feather Blue
Sage and King