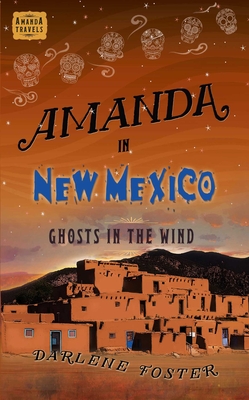 Amanda in New Mexico (Paperback)
Ghosts in the Wind (Amanda Travels)
Central Avenue Publishing, 9781771681209, 128pp.
Publication Date: October 1, 2017
* Individual store prices may vary.
Description
Amanda Ross is on a school trip to Taos, New Mexico with several of her fellow creative students. Join Amanda, Cleo and their funny friend, Caleb, as they visit an ancient and beautiful landscape where a traditional hacienda, an ancient pueblo, and a haunted and spooky hotel all hold secrets to a wild and violent past. Does Cleo really see ghosts? Can Amanda escape the eerie wind that follows her everywhere? Perhaps the Day of the Dead will reveal the mysteries of Taos in this latest adventure of Amanda's travels.
About the Author
Darlene Foster is an award-winning author and world traveller who spends her time in Vancouver, Canada and Orihuela Costa, in Spain.
Praise For Amanda in New Mexico: Ghosts in the Wind (Amanda Travels)…
"A charming and fast-paced story that will delight its young audience as Amanda and Leah travel along the historic Danube River to deliver a very unique and mysterious violin." —Suzanne de Montigny, Award-winning author, Shadow of the Unicorn: The Legacy
"Young readers will have great fun travelling alongside Amanda Ross as she cruises down the Danube by riverboat, revelling in the picturesque landscape and captivating cities along the way. This novel is chock-full of social and cultural history that will leave adventurers longing to explore this part of Europe for themselves. Thanks to a mysterious boy who entrusts Amanda with a timeworn violin, this fast-paced mystery will keep readers guessing until the very last chapter." —Jan L. Coates, Children's Author, Governor General's Literary Awards 
"Darlene Foster's latest title, Amanda on the Danube, is a fun and engaging read. Set in different European cities, Amanda and her best friend Leah travel on a cruise ship along the Danube with adventure hot on their heels. A mysterious violin case, two boys and other intriguing characters among ancient castles make this a page turning adventure for young readers." —Margriet Ruurs, Author of My Librarian is a Camel
"Foster's writing is conversational and easy to read, and young readers will likely find the pages flying by." —Quill & Quire
"Amanda in New Mexico is a story rich in interesting historical detail woven in seamlessly with current relevant dilemmas." —Sheila MacArthur
"Fast-paced, spooky, and enough cultural reference to delight both readers and parents." —Alex Lyttle, author, From Ant to Eagle
"Fans of the 'Amanda Travels' books will likely enjoy themselves as they explore a piece of the Southwestern United States." —Martha Rico, School Library Journal
"Join Amanda, Cleo and Caleb on a field trip as they visit an ancient landscape where a traditional hacienda, an ancient pueblo, and a haunted hotel all hold secrets to a wild and violent past. Fun and educational! (Ages 9-12)" —Diana Perry, Midwest Book Review