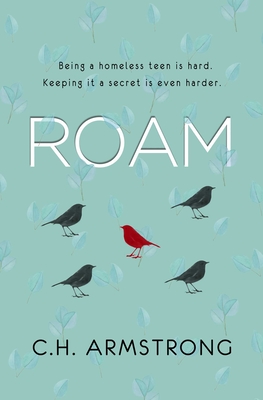 Roam
Paperback

* Individual store prices may vary.
Description
Seventeen-year-old Abby Lunde and her family are living on the streets. They had a normal life back in Omaha but, thanks to her mother's awful mistake, they had to leave behind what little they had for a new start in Rochester. Abby tries to be an average teenager-fitting in at school, dreaming of a boyfriend, college and a career in music. But Minnesota winters are unforgiving, and so are many teenagers.
Her stepdad promises to put a roof over their heads, but times are tough for everyone and Abby is doing everything she can to keep her shameful secret from her new friends. The divide between rich and poor in high school is painfully obvious, and the stress of never knowing where they're sleeping or where they'll find their next meal is taking its toll on the whole family.
As secrets are exposed and the hope for a home fades, Abby knows she must trust those around her to help. But will her new friends let her down like the ones back home, or will they rise to the challenge to help them find a normal life?
Praise For Roam…
"In Roam, C.H. Armstrong sings with a brilliant, powerful youthful voice as she portrays a narrator named Abby who experiences what it's like to be homeless with her family, while dealing with the emotional and complex daily challenges of attending a new school. We, her readers, are drawn in from the first page. This lovely book has tremendous heart." —Brandon Hobson, author of Where the Dead Sit Talking
"In her warm and hopeful novel, C.H. Armstrong has created a spirited heroine who triumphs over her circumstances thanks to those who believe in her; friends, family, teachers and ultimately, herself." —Lorna Landvik, author of Once in A Blue Moon Lodge
"Armstrong's book pays compassionate and eloquent attention to teenage angst and love amidst the backdrop of homelessness." —Cara Sue Achterberg, author of Girls' Weekend and I'm Not Her
"Roam is a compelling, accurate look into the life of a homeless teen. A must-read for all young people to understand the hardship of homelessness and how they can reach out to help others." —Cathy Lamb, author of No Place I'd Rather Be
"C.H. Armstrong's compelling young adult novel Roam follows a homeless teenager as she and her family struggle to make a fresh start in a new town. Roam is a study in empathy, forgiveness, and second chances—an impactful and memorable story of teenage homelessness." —Catherine Thureson, Foreword Reviews
"A mother's misdeed leads to scandal, ending friendships and forcing a family move to a new state and into a life of homelessness. An empathetic tale that treats homelessness with respect and makes it visible." —Kirkus Reviews
"Armstrong seamlessly combines the challenges that teens normally face in daily life with the struggles of being homeless in a new environment. This emotional read with an inspiring and heart-wrenching message encourages readers to walk a mile in another's shoes before passing judgment. —Savannah Patterson, Booklist
"Heartbreaking . . . Roam couldn't be more timely in its exploration of how a teenager tries to keep up a facade while living in a van." —Mary Ann Grossmann, Twin Cities Pioneer Press
Central Avenue Publishing, 9781771681513, 320pp.
Publication Date: February 5, 2019
About the Author
C.H. Armstrong writes issue-driven young adult and women's fiction, and freelances part time as a magazine columnist. An assignment to cover the twenty-year anniversary of a local soup kitchen, piqued her interest in the homeless community, and inspired Roam.