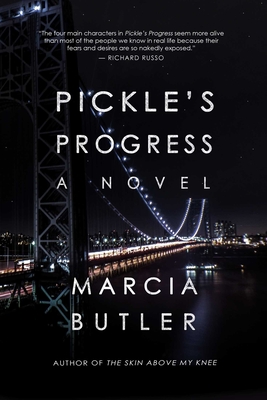 Pickle's Progress (Hardcover)
A Novel
Central Avenue Publishing, 9781771681544, 288pp.
Publication Date: April 9, 2019
Other Editions of This Title:
Paperback (4/9/2019)
Compact Disc (4/9/2019)
MP3 CD (4/9/2019)
Compact Disc (4/9/2019)
* Individual store prices may vary.
Description
Marcia Butler's debut novel, Pickle's Progress, is a fierce, mordant New York story about the twisted path to love.

Over the course of five weeks, identical twin brothers, one wife, a dog, and a bereaved young woman collide with each other to comical and sometimes horrifying effect. Everything is questioned and tested as they jockey for position and try to maintain the status quo. Love is the poison, the antidote, the devil and, ultimately, the hero.
About the Author
Marcia Butler has had a number of creative careers: professional musician, interior designer, documentary filmmaker, and author. As an oboist, the New York Times hailed her as a "first rate artist." Acclaimed interior designs include projects in NYC, Boston, and Miami. The Creative Imperative, her documentary film exploring the essence of creativity, will release in Spring 2019. Her memoir, The Skin Above My Knee, was one of the Washington Post's "top ten noteworthy moments in classical music in 2017."  Pickle's Progress is her fiction debut. She lives in New York City.
Praise For Pickle's Progress: A Novel…
"Oh, what a pickle Pickle's Progress puts us in—a duke's mixture of villainy, deceit, betrayal, and, Lord help us, romantic love—all of it rendered in prose as trenchant as it is supple." —Lee K. Abbott, author of All Things, All at Once

"Surprising and audacious…. Pickle's Progress is a deeply weird novel that succeeds because of Butler's willingness to take risks and her considerable charisma—she's a gifted storyteller with a uniquely dry sense of humor and a real sympathy for her characters… a promising fiction debut from a writer who seems incapable of not going her own way." —Michael Schaub, NPR
"The four main characters in Pickle's Progress seem more alive than most of the people we know in real life because their fears and desires are so nakedly exposed. That's because their creator, Marcia Butler, possesses truly scary X-ray vision and intelligence to match." —Richard Russo, author
"How does healing happen? Sometimes in quirkier ways than you might expect. Butler's blazingly original novel debut (her memoir, The Skin Above My Knee made me want to run away and join an orchestra) is a quintessential moving, witty, New York City story about the love we think we want, the love we get, and the love we deserve, all played out with symphonic grace. I loved it." —Caroline Leavitt, New York Times Bestselling author of Pictures of You and Cruel Beautiful World 
"Written in brave and startling prose, Butler has written a fast-paced tale of identical twin brothers and the women in their orbit, who collide and dance in a haunting tale of tragedy, passion and love. " —Patty Dann, author of the bestselling novel, Mermaids
"Butler's sharp, artistic sensibilities shine through, and the result is a brutal, funny story of family, regret, and belonging." —Amy Poeppel, author of Limelight
"Invigorating, sly and mordantly funny, Pickle's Progress offers a comic look at the foibles of human nature and all the ways love can seduce, betray and, ultimately, sustain us." —Jillian Medoff, bestselling author of This Could Hurt
"Marcia Butler's debut novel, Pickle's Progress, is funny, sharp, totally original, and completely engrossing. It joins the pantheon of great New York novels. I loved every page." —Julie Klam, author of The Stars in Our Eyes
"You'll laugh, you'll cry, you'll shake your head, but you'll keep turning those pages to find out what happens to Karen, Stan, Junie, and Pickle in this riveting, dramatic version of musical chairs." —Charles Salzberg, author of Second Story Man and the Shamus Award nominated "Henry Swann" series
"Identical twins Stan and Pickle McArdle live tangled lives, fulfilling expectations imposed on them in childhood by their controlling mother... Butler's debut is character-driven…starts with a crash then slows as the characters' personalities develop. In this study of how childhood experiences shape perception, and how deception keeps people caged, Butler shows that nothing need be set in stone." —Kirkus Reviews
"With detached wit and restrained horror at her characters' behavior, Butler explores the volatile nature of identity in this provocative novel." —Margaret Quamme, Booklist