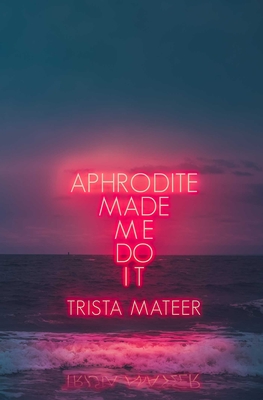 Aphrodite Made Me Do It (Myth and Magick #1)
Paperback

* Individual store prices may vary.
Description
Voted one of the best poetry collections of 2019 by readers on Goodreads! Bestselling and Goodreads Choice Award winning poet Trista Mateer takes a magical approach to self-care with her new collection, Aphrodite Made Me Do It.
 
In this empowering and feminist retelling, Mateer transforms the mythology of the goddess into 224 pages of modern poetry and full-color artwork. Broken into sections alternating between the perspective of The Poet and Aphrodite herself, the work within tackles the timeless topic of love--romantic, platonic, and self-love. The collection addresses issues like heartbreak, sexuality, womanhood, trauma, and the restorative power in taking control of your own lore, speaking your truths, and rewriting your origin story. If you let her, by the end of this book, Aphrodite will make you believe in the possibility of your own healing.

"If you were only made to be beautiful, we wouldn't have put you down here in the dirt."Perfect for fans of Amanda Lovelace, Nikita Gill, Rupi Kaur, Elizabeth Acevedo, Rick Riordan, and Madeline Miller; or anyone interested in Greek myths, tarot, and Instagram poetry.

Try Trista Mateer's other book of poetry, Honeybee.
Praise For Aphrodite Made Me Do It (Myth and Magick #1)…
"Aphrodite Made Me Do It is a gentle scream from outside of your window. You will find grace between these pages and a little sadness, too—the kind that makes flowers grow in all of the places you need them most." —Wilder, author of Nocturnal

"Aphrodite Made Me Do It is a dazzling portal of a collection. Trista Mateer erupts with spells of thunder and then gifts you with a careful platter of language to cast them yourself." —Blythe Baird, Author of If My Body Could Speak
Central Avenue Publishing, 9781771681742, 192pp.
Publication Date: October 1, 2019
About the Author
Trista Mateer is the award-winning and bestselling author of multiple poetry collections including Artemis Made Me Do It, Aphrodite Made Me Do It, and Honeybee. She is a passionate mental health advocate, currently writing in South Carolina. Connect with her at @tristamateer.