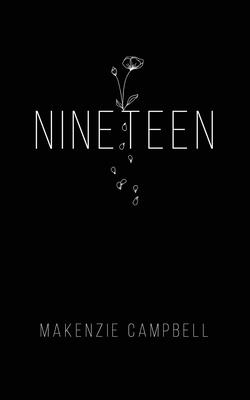 Nineteen (Paperback)
Central Avenue Publishing, 9781771681865, 192pp.
Publication Date: March 3, 2020
* Individual store prices may vary.
Description
By the author of the wildly successful 2am Thoughts, comes Nineteen — titled after the poet's age when she wrote this new book. Nineteen is a collection of poetry that broaches heartbreak, love, loss, war, peace, and healing.
For every place we go, there is a feeling or memory that's been painted on the walls. You can paint over it, but it will always be there. Even if you can't see it, you know.
You can feel the heartbreak inside the bedroom where you lost a love.
You can feel the hope at the coffee shop where a beginning happened.
You can feel the healing as you sit in the driver's seat, in charge of your own life.
About the Author
Makenzie Campbell grew up in the Pacific Northwest and has been expressing herself through poetry since grade school. Following the success of her debut, 2am Thoughts, Makenzie continues her writing journey with her new collection, Nineteen, inspired by her experience transitioning into adulthood. Makenzie is pursuing a degree in psychology at Washington State University, and her little free time is spent traveling the world and exploring the wild trails of the Cascades. 
Praise For Nineteen…
"Campbell's newest collection serves as a necessary reminder that whatever we are feeling, we are never feeling it alone." —Trista Mateer, author of Aphrodite Made Me Do It 
"There are defining moments in our lives that we often experience in certain places. It's in these places, that we feel particular emotions, which help shape who we become. Nineteen perfectly captures this. Whether you are sad and heartbroken in your bedroom, thinking about life in the shower or realising that you are ultimately in the driver's seat of your own destiny, Makenzie's words create a link between place and memory. For anyone whose emotions are tied to places, this book is for you." —Courtney Peppernell, author of Pillow Thoughts
"Nineteen is a journey. An exploration. A reminder to put one foot in front of the other even when it's dark because there is always a light waiting for you in the distance. These words will reach in your direction, they will pull you back to places you thought you had forgotten only to remind you how far you have come. There is heartbreak living inside of here, but the most beautiful thing is that there is healing between these pages, too." —Wilder, Author of Nocturnal
"In spare poems with aphoristic lines and short prose segments, the book speaks to adolescent pain and suffering." —Publishers Weekly