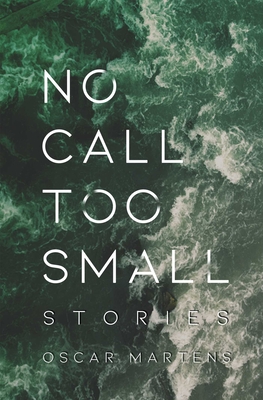 No Call Too Small (Paperback)
Central Avenue Publishing, 9781771681957, 224pp.
Publication Date: April 7, 2020
* Individual store prices may vary.
Description
By the end of the day, a cop must choose between ethics and social death. A camp counsellor, stuck deep in the woods with a small group of boys, only has a few hours before the DTs kick in. Adult children scramble to get the best of what remains of their mother's estate, but funeral plans may be premature. Sandwiched between a depressed mother and a careless father, a young girl must help attract customers to the family business, no matter the cost. On this dark, winding road of stories, there's little choice but to hang on and meet whatever's over the rise head on.
About the Author
Oscar Martens has been publishing stories and poems since George Michael carelessly whispered, and believes an entire world can fit inside a fifteen minute story. Many of them have been nominated for notable awards and published in journals such as The Journey Prize Stories, Prairie Fire, Queen's Quarterly, Quarry, The Malahat Review, Event, and Grain. Oscar lives with his wife in Burnaby BC.
Praise For No Call Too Small…
"Taut, efficient and always just a beat away from heartbreak, No Call Too Small is a beautifully crafted collection. Martens deftly explores surprising and unexpected worlds, using them as a prism to dissect and understand human nature. With each successive story, I felt I was in the hands of writer who knows more than a thing or two about the love and pain." —Marcia Butler, Author of Pickle's Progress
"Oscar Marten's characters hurtle their way toward potential disaster or redemption in these vivid stories of lives burdened by misunderstandings and disappointment, usually self-inflicted. Marten's strong prose is a pleasure to read, with dark humour and lively storytelling that brings a quirky humanity to his characters." —Janie Chang, Globe and Mail bestselling author of Dragon Springs Road
"I knew Oscar Martens was the real thing when I first read him over twenty years ago. These new stories offer fresh evidence aplenty. Smart, honest, sparely eloquent, moving, humane, and disillusioned in the healthiest sense of a word that gets way too much bad press. Martens is funny, too, desperately so—and how else is a writer supposed to observe and portray this world we've made?" —Steven Heighton, Governor General's Award winner and author of The Nightingale Won't Let You Sleep
"Oscar Martens' debut collection is a warm, safe port in the storm the is life these days. His writing is vivid and clear, his characters honest and their stories full of the details and emotional truth that make them real. I read these stories, one by one, as a nightly ritual, as a special treat before going to sleep to call up the dreams that make for a peaceful sleep." —Jennifer Haupt, Editor, One True Thing, Psychology Today