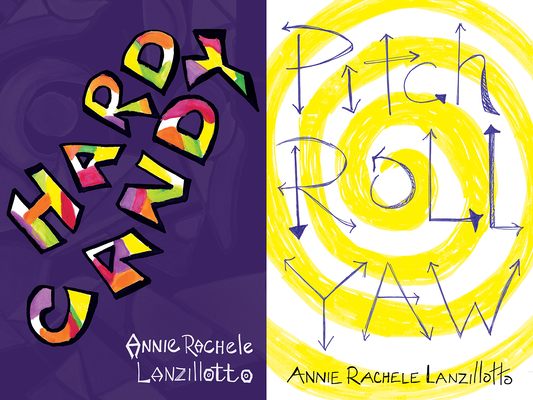 Hard Candy / Pitch Roll Yaw (Guernica World Editions #1) (Paperback)
Guernica World Editions, 9781771833059, 400pp.
Publication Date: March 1, 2018
* Individual store prices may vary.
Description
Hard Candy / Pitch Roll Yaw is a flip book with two poetry collections facing each other. In Hard Candy Annie Lanzillotto offers poems and prose of caregiving and mourning in the relationship between the poet and her mother. Pitch Roll Yaw is organized into fourteen stations each beginning with a See, Saw poem -- one line of two phrases separated by a fulcrum: comma, caesura, spondee, dash, or backslash, with a quick shift in weight and change in meaning. Each station is unified by theme or form.
About the Author
New York City's Annie Rachele Lanzillotto is the author of L is for Lion: an italian bronx butch freedom memoir, Lambda Literary Award finalist. A singer/songwriter, her albums include: Swampjuice: Yankee with a Southern Peasant Soul, Blue Pill, and Carry My Coffee.
Praise For Hard Candy / Pitch Roll Yaw (Guernica World Editions #1)…
"A mother's life caring for her daughter. A daughter's life caring for her mother. In Hard Candy: caregiving, mourning, and stage light, cancer survivor Annie Lanzillotto gives the performance of her life - for her life and her dying mother's. She stages a drum-beating sit-in at the hospital and refuses to leave without the medication she needs to breathe. She screams operatic on the phone demanding oxygen equipment so her mother can breathe. The bureaucratic debacle of our health care system chronicled in this memoir will take your breath away, but not Annie's. Every inhale, every exhale. For motherdaughter. For daughtermother." — PAOLA CORSO, author of The Laundress Catches Her Breath, winner of the Tillie Olsen Award for Creative Writing
or
Not Currently Available for Direct Purchase