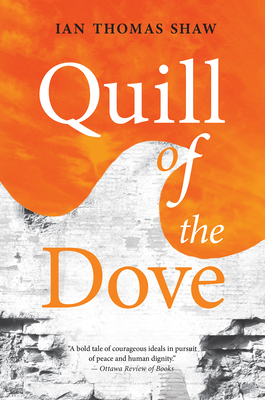 Quill of the Dove (MiroLand #21)
Paperback

* Individual store prices may vary.
Description
French journalist Marc Taragon is at the apex of his career in 2007. A tenacious idealist, Taragon has spent the last thirty years attempting to bring to readers the truths about the wars and political intrigues of the region. He is unsparing in his criticism of extremists and has earned many enemies. He agrees to be interviewed in Cyprus, by a young Canadian journalist, Marie Boivin, not knowing that Marie has a hidden agenda: to discover through Taragon the truth about her childhood. Before Marie finds the answers she seeks, she is enmeshed in Taragon's plan to broker peace negotiations between a left-wing Israeli politician and a dissident Palestinian leader. Taragon succeeds in persuading the two adversaries to agree to an ambitious peace plan. The action then moves quickly through Europe and the Middle East as Taragon and his associates try to stay one step ahead of deadly opponents of their initiative. Parallel to the main plot is the narrative of Taragon's early years as a journalist in war-torn Lebano
Praise For Quill of the Dove (MiroLand #21)…
"Quill of the Dove is a gripping political thriller driven by memorable characters, both noble and nefarious, whose destinies are inextricably determined by war zones and conflicts. Spanning the Middle East, Europe and Canada, the novel delivers a fascinating quest for truth and love that illuminates the legacies of violence in our complex world. -- Cora Siré, author of Behold Things Beautiful. Quill of the Dove is brilliantly plotted, bursting with suspense, and populated with characters one cares about immensely. Shaw proves himself resoundingly as a master of the political thriller. Easily one of the best novels I've read in recent years." — David Joiner, author of Lotusland
MiroLand, 9781771833783, 304pp.
Publication Date: April 1, 2019
or
Not Currently Available for Direct Purchase