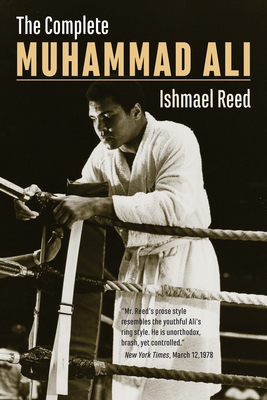 The Complete Muhammad Ali (Paperback)
Baraka Books, 9781771860406, 448pp.
Publication Date: July 15, 2015
* Individual store prices may vary.
Description
Including material and photographs not included in most of the 100 other books about the champion, Ishmael Reed's The Complete Muhammad Ali is more than just a biography—it is a fascinating portrait of the 20th century and the beginning of the 21st. An honest, balanced portrayal of Ali, the book includes voices that have been omitted from other books. It charts Ali's evolution from Black Nationalism to a universalism, but does not discount the Nation of Islam and Black Nationalism's important influence on his intellectual development. Filipino American author Emil Guillermo speaks about how "The Thrilla' In Manila" brought the Philippines into the 20th century. Fans of Muhammad Ali, boxing fans, and those interested in modern African American history and the Nation of Islam will be fascinated by this biography by an accomplished American author.
About the Author
Ishmael Reed is a prize-winning essayist, novelist, poet, and playwright and the author of numerous books, including Barack Obama and the Jim Crow Media and Going Too Far. He taught at the University of California–Berkeley for 35 years, as well as at Harvard, Yale, and Dartmouth. He lives in Oakland, California.
Praise For The Complete Muhammad Ali…
"Appropriately titled The Complete Muhammad Ali, this book is more than just a biography of the man the world calls Muhammad Ali. It is also a history of the sport and business of boxing, Elijah Muhammad and the Nation of Islam, the 1960s civil rights movement in the United States, and a myriad of other associated topics . . . In writing this book, Ishmael Reed has created the most complete biography of one of history's most famous personalities. In addition, he has provided the reader (and the world) with a revelatory look at the world Muhammad Ali resided in. Twelve sold rounds of writing . . . his biography stands above its competition." —Ron Jacobs, counterpunch.org
"Muhammad Ali was a one man Boxer Rebellion, the fighter who did the rare thing of changing minds and hearts by challenging racism and empire at the risk of fame and fortune. Like Haley's Comet, such a person doesn't come around often, people everywhere felt better knowing he was there. So who is he really? You got to read Ishmael Reed's The Complete Muhammad Ali to get an idea. Ishmael is a veteran fighter/writer, with success in several divisions(poetry, novels, music) and more likely to get it right than the corporate journalists or established fight crowd. Reed is like the journeyman champ, Archie Moore: cagey, unorthodox, able to land a punch from unexpected directions. Insights from the Honorable Elijah Muhammad, Willie Pep, Miles Davis, and the man who 1st sold Ali Muhammad Speaks. This is the book that answers the questions about 'the Greatest.'" —Phil Taylor, taylor-report.com
"This expansive masterpiece . . . There are so many new revelations about Elijah Muhammad, Muhammad Ali, the Nation of Islam, and Black Nationalism to praise The Complete Muhammad Ali about. Suffice it to say that Reed's book is a masterful contribution to our understanding and appreciation of the legacy of Muhammad Ali, Elijah Muhammad, the Nation of Islam, Black Nationalism, and what it means to be a black athlete or sports person in America." —Pierre-Damien Mvuyekure, Professor, Department of Languages and Literature, Northern Iowa University; counterpunch.org
"In The Complete Muhammad Ali, Ishmael Reed reveals fresh information and dozens of new ideas about a subject whose meaning has become increasingly difficult to tap. This book is definitely worth your time." —Michael Ezra, author, Muhammad Ali: The Making of an Icon
"The pre-eminent African American novelist, essayist, and poet Ishmael Reed's latest book, The Complete Muhammad Ali, stands as one of Reed's most important projects to date . . . if you want to engage with the spirit of the man [Ali] in his time, and get punched by the prose of one of our greatest living writers, The Complete Muhammad Ali is the book for you." —Brian Flota, thehairsplitter.com