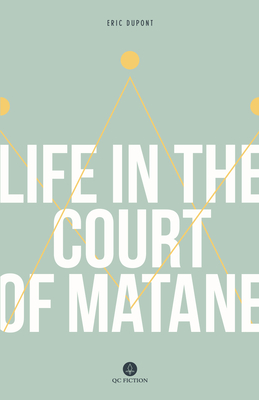 Life in the Court of Matane (Paperback)
QC Fiction, 9781771860765, 266pp.
Publication Date: July 1, 2016
* Individual store prices may vary.
Description
Nadia Comaneci's gold-medal performance at the Olympic Games in Montreal in 1976 is the starting point for a whole new generation. Eric Dupont watches the performance on TV, mesmerized. The son of a police officer (Henry VIII) and a professional cook—as he likes to remind us—he grows up in the depths of the Quebec countryside with a new address for almost every birthday and little but memories of his mother to hang on to. His parents have divorced, and the novel's narrator relates his childhood, comparing it to a family gymnastics performance worthy of Nadia herself. Life in the Court of Matane is unforgiving and we explore different facets of it (dreams of sovereignty, schoolyard bullying, imagined missions to Russia, poems by Baudelaire), each based around an encounter with a different animal, until the narrator befriends a great horned owl, summons up the courage to let go of the upper bar forever, and makes his glorious escape.
About the Author
Eric Dupont's books are among the first in a wave of new Quebec literature: La Presse has called him "one of the province's most daring and original writers," while Voir maintains that just two novels were enough to make his work "essential reading for anyone interested in new Quebec literature." Born in 1970, Eric Dupont lives and works in Montreal where he teaches translation at McGill University. Peter McCambridge is an award-winning literary translator. He founded and heads the Québec Reads webzine and now runs QC Fiction, a new imprint of Baraka Books devoted to publishing contemporary Québec literature in translation.
Praise For Life in the Court of Matane…
"I was so engrossed in Eric's personal quest to escape Matane that I found myself saying 'Wait! It can't end yet!' Trust me, you'll find yourself hoping Eric Dupont is somewhere in La belle province writing a sequel to Life in the Court of Matane . . . QC Fiction has done a great service to English readers everywhere by translating this popular Quebec novel for us. Bien fait." —James Fisher, miramichireader.ca
"One of Quebec's most daring and original writers." —La Presse
"If the Americans have John Irving and the Colombians Gabriel Garcia Marquez, we have Eric Dupont. And he's every bit as good as them." —Voir
"By turns poignant, playful, and nostalgic, the book evokes '70s Quebec with the quirky but successful device of combining an autobiographical family story with motifs drawn from fable, history, politics and myth . . . . Translator McCambridge beautifully captures the joyous top notes and the darker undercurrents of this fascinating voice." —Publishers Weekly
"With an excellent translation by McCambridge, one which reads smoothly and keeps the humour which undoubtedly pervades the original, Dupont's novel makes for an entertaining look at a Québécois childhood . . . . It all makes for an impressive start for QC Fiction." —Tony, tonysreadinglist.wordpress.com
"A captivating voice that sharply trapezes between a heightened version of his parents' divorce and life in the countryside . . . Eric's insights brim with intelligence" "Tangential, expansive in its ability to capture youth at a crossroads, and unexpectedly piercing . . . an inventive novel" —Karen Rigby, Foreword Reviews
"Wildly imaginative . . . a remarkably sensitive and intelligent coming-of-age story told with an irresistible blend of heartache, humour and magic." —Joe Schreiber, numerocinqmagazine.com
"A beautiful, tragicomic coming-of-age story . . . This translation is knocking my socks off." —Bronwyn Averett, epeak.in
"A classic coming-of-age novel worth pondering over." —Steven Buechler, pacifictranquility.wordpress.com
"I have found that many of my favourite books have come from the Quebec based publisher QC Fiction." —Winstonsdad.wordpress
or
Not Currently Available for Direct Purchase