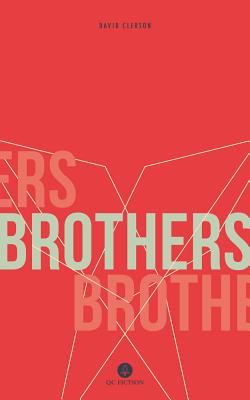 Brothers
Paperback

* Individual store prices may vary.
Description
David Clerson's first novel won the Grand prix littéraire Archambault 2014. It is an original piece of fiction, steeped in myth and fable, a reflection of our own familiar surroundings in a distorting mirror.

This world of "monstrous creatures, bigger than anything they could imagine, two-headed fish, turtles with shells as huge as islands, whales with mouths big enough to swallow up whole cities" is seen through the eyes of two brothers, the elder brother missing an arm, the younger fashioned by his mother from that arm.
Praise For Brothers…
"A surprising blend of fairy tale and adventure story, Brothers is a violent epic that feels like an ancient legend. A remarkable first novel, anchored in the traditions of another age and carried along by modern language." —Lettres québécoises

"Katia Grubisic's translation of the text offers flowing, unadorned prose that sings with the depth and simplicity of the story. Clerson's narrative charms lead us wilfully to unknown and unthinkable places. In the end, the reader is left with a single feather of hope, and the knowledge that beautiful monsters lurk at the fringes of CanLit." —Dean Garlick, Montreal Review of Books

"By using timeless techniques to distill various traditions into a singular, satisfying story, Brothers offers a genuine example of literary innovation." —Bardia Sinaee, Quill & Quire

"The best book I read all year." —Dustin Parkes, National Post Arts Editor

"Gripping." —Jade Colbert, Globe and Mail

"The prose, beautifully translated by poet Katia Grubisic, is crystalline, spare, and unsentimental. The balance is just right . . . it holds you in awe. It is surreal, grotesque and beautiful in turn." —Joseph Schreiber, roughghosts.com

"Brothers is quite simply a wonderful book, a story that sweeps you along . . . Clerson has produced a breathless tale. I found many similarities with last year's Best Translated Book Award winner." —Tony Malone, tonysreadinglist.wordpress.com

"Brothers is a coming-of-age story that develops unusually, moving briskly and capturing the temporal and spatial shifting of a dream . . . The novel's distinctive dreamlike flavour is strong and well-executed . . . a very open, very readable adventure." —Dan Twerdochlib, Winnipeg Review

"A world where stories have a power beyond their truth . . . This dark fable tells the story of our times." —Grant Rintoul, 1streading.wordpress.com

"Extraordinary . . . I don't recall reading a novel with such visceral impact. The elemental imagery and saga ferocity are intense. Brothers packs a punch way above its 150-page weight." —Simon Lavery, tredynasdays.co.uk

"The prose can be as ominous and as vivid as Cormac McCarthy's Child of God. It is testament to Katia Grubisic's translation that such an analogy is not hyperbolic . . . . This is an extraordinary first novel by an enormously talented writer, and a first translation by an enormously talented poet-translator. Brothers by David Clerson is a carefully wrought work of dark beauty." —Des Barry, 3 AM Magazine
QC Fiction, 9781771860864, 150pp.
Publication Date: November 1, 2016
About the Author
CA
or
Not Currently Available for Direct Purchase