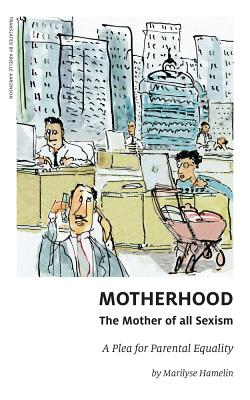 Motherhood, The Mother of All Sexism (Paperback)
A Plea for Parental Equality
Baraka Books, 9781771861373, 176pp.
Publication Date: October 1, 2018
* Individual store prices may vary.
Description
Quebec spoils its families, according to some, with those "long" parental leaves—a full year for mothers—well-subsidized childcare, and more. Marilyse Hamelin challenges that restrictive view. But she adds that although progress has been made compared to other places in North America, stop-gap measures are not the answer. Women deserve and expect more. And the fight for women's rights and equality is taking place here and now, in Canada and the US, and not in some distant Third World country. Why can't woman have it all? Why can't the labor market and the entire infrastructure that sustains it be adapted to meet the needs of mothers—and fathers? What does that mean in practice? What are the causes of the lasting inequality between men and women? Why does our radar blank out women working at minimum wage or less? Marilyse Hamelin answers those questions and proposes solutions, bringing to bear numerous studies, statistics, and interviews.
About the Author
Marilyse Hamelin is an independent journalist, blogger, and public speaker. As a committed feminist, she is often invited by Radio-Canada and other media to discuss the burning issues concerning women's rights. This is her first book. Arielle Aaronson is a Montreal literary translator whose work includes QC Fiction novels Behind the Eyes We Meet by Mélissa Verreault and Listening For Jupiter by Pierre-Luc Landry, which she co-translated with Madeleine Stratford. Toula Drimonis is a Montreal-based freelance writer, editor, and award-winning columnist and a frequent guest on English and French-language radio and television. A former News Director with TC Media, her freelance work has appeared in the National Post, the New York Times, Ricochet Media, Ms. Magazine, Buzzfeed Canada, Huffington Post, J-Source, and Le Journal de Montréal, among others. Politics and women's issues remain her main points of interest.
Praise For Motherhood, The Mother of All Sexism: A Plea for Parental Equality…
"Journalist and blogger Hamelin's debut on systemic gender inequality is a timely reminder that, despite decades of incremental changes, stereotypes and other significant barriers continue to plague women in the workplace... a worthy contribution that rejects the notion that women's equality has been achieved, while also proposing changes to reach that still elusive goal." —Publishers Weekly
"An admirable boldness infuses Marilyse Hamelin's Motherhood, The Mother of All Sexism... Hamelin has done a great service" —Kerry Clare, Quill & Quire
"...vastly interesting, informative, and most importantly, perspective-altering. A particularly significant and relevant book for the times." —James Fisher, The Miramichi Reader