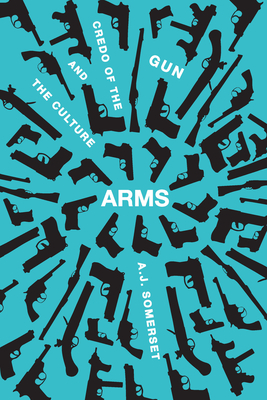 Arms
The Culture and Credo of the Gun
Paperback

* Individual store prices may vary.
Description
After a fifteen-year hiatus from the world of guns, journalist, sports shooter, and former soldier A.J. Somerset no longer fit in with other firearm enthusiasts. Theirs was a culture much different than the one he remembered: a culture more radical, less tolerant, and more immovable in its beliefs, "as if each] gun had come with a free, bonus ideological Family Pack of political tenets], a ready-made identity." To find the origins of this surprising shift, Somerset began mapping the cultural history of guns and gun ownership in North America. Arms: The Culture and Credo of Gun is the brilliant result.
How were firearms transformed from tools used by pioneers into symbols of modern manhood? Why did the NRA's focus shift from encouraging responsible gun use to lobbying against gun-safety laws? What is the relationship between gun ownership and racism in America? How have the film, television, and video game industries molded our perception of gun violence? When did the fear of gun seizures arise, and how has it been used to benefit arms manufacturers, lobbyists, and the far-right?
Few ideas divide communities as much as those involving firearms, and fewer authors are able to tackle the subject with the same authority, humor, and intelligence. Written from the unique perspective of a gun lover who's disgusted with what gun culture has become, Arms is destined to be one of the most talked-about books of the year.
Biblioasis, 9781771960281, 352pp.
Publication Date: September 15, 2015
About the Author
A. J. Somerset has been a soldier, a technical writer, a programmer, and a freelance photographer. His non-fiction has appeared in numerous outdoor magazines in Canada and the United States, and his articles have been translated into French and Japanese. His first novel, Combat Camera, won the Metcalf-Rooke Award.