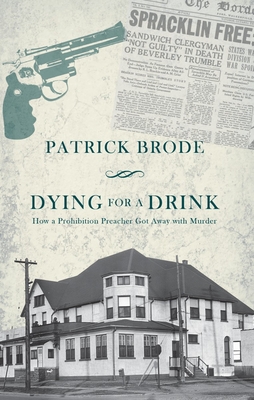 Dying for a Drink (Paperback)
How a Prohibition Preacher Got Away with Murder
Biblioasis, 9781771962681, 216pp.
Publication Date: January 1, 2019
* Individual store prices may vary.
Description
Known to history as "The Fighting Parson," Reverend J.O.L. Spracklin broke into a notorious Windsor roadhouse one chilly November night in 1920 and shot and killed barkeep Beverly "Babe" Trumble. Easily acquitted by reason of self-defense, he never served a day of time. A provincial liquor license inspector already known for his brash tactics, Spracklin's audacious tactics solidified across North America the Detroit-Windsor borderlands' reputation as the new Wild West--an uncivilized outpost where whisky flowed freely, warrants were forged on the spot, and ministers toted guns to keep the peace.
To the rest of Ontario, a dry province, Spracklin was the saviour they'd been waiting for, the answer to the lawlessness of the Border Cities--that is, until he shot a man at point blank range. In this exploration of the period, decorated Ontario historian Patrick Brode unpacks this infamous piece of Prohibition lore and asks: Why did Babe Trumble die? What led to a hotheaded reverend taking the law into his own hands, killing a man, and getting away with it? Full of fire-and-brimstone preachers, crooked politicians, wily rum runners, grandstanding lawyers, and innocents caught in the crossfire, Dying for a Drink is a fascinating read that will captivate anyone interested in the real stories behind this fabled time.
About the Author
Patrick Brode was born in Windsor, Ontario. He was called to the Ontario Bar in 1977 and has practiced law ever since. He has written five books on the history of law in Canada, including Sir John Beverley Robinson: Bone and Sinew of the Compact, which was a finalist for the City of Toronto Book Award, and The Odyssey of John Anderson, a finalist for the Trillium Award. The Slasher Killings: A Canadian Sex-Crimes Panic, 1945-1946, was nominated for the Arthur Ellis Award. His most recent book, Border Cities Powerhouse: The Rise of Windsor, 1900-1945, was shortlisted for the 2017 Ontario Speaker's Book Award.