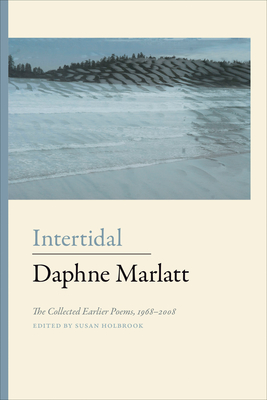 Intertidal (Paperback)
The Collected Earlier Poems, 1968 - 2008
Talonbooks, 9781772011791, 608pp.
Publication Date: September 18, 2018
Other Editions of This Title:
Hardcover (3/6/2018)
* Individual store prices may vary.
Description
The first volume of the definitive oeuvre of Daphne Marlatt's poetry exploring the city, feminism, and collaboration. An early member of the avant-garde TISH group, which turned Canadian poetry for the first time to a focus on language, Marlatt's career has spanned five decades and a range of formal styles and concerns. The Collected Earlier Poems offers Marlatt's perceptual and Vancouver-centric work of the 1970s, her feminist writing of the 1980s, and her later collaborative work.
Daphne Marlatt is a West Coast, deconstructionist, lesbian, and feminist writer.
Susan Holbrook is a researcher, writer, and poet.
About the Author
Born in Melbourne, Australia in 1942, DAPHNE MARLATT spent much of her childhood in Malaysia before emigrating to Canada. Marlatt was at the centre of the West Coast poetry movement in the 1960s while studying at the University of British Columbia with several of Donald Allen's New American Poets, notably Robert Creeley and Robert Duncan. Her association with the loosely affiliated TISH group encouraged her non-conformist approach to both form and language. Her later association and collaboration with Canadian feminist writers led to co-founding and co-editing the bilingual feminist journal, Tessera. Marlatt is known for her formally innovative books of poetry, including Steveston, Touch to My Tongue, Salvage, and Liquidities. Her novelistic long poem, The Given, received the 2009 Dorothy Livesay Poetry Prize. She is also the author of two acclaimed novels, Ana Historic and Taken, as well as a celebrated contemporary Canadian Noh play, The Gull. In addition to teaching, she has served as writer-in-residence at nine universities across Canada and at the Banff Writing Studio. In 2006, Marlatt was appointed to the Order of Canada in recognition of a lifetime of distinguished service to Canadian culture. In 2012, she received the George Woodcock Lifetime Achievement Award. PHOTO: Shazia Hafiz Ramji *** SUSAN HOLBROOK, editor of Intertidal, is also an acclaimed poet, a professor in the English department at the University of Windsor and chair of its creative writing program, and a preeminent critic of Daphne Marlatt's work.