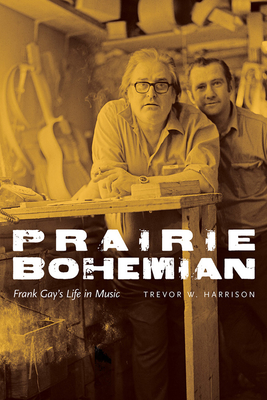 Prairie Bohemian (Paperback)
Frank Gay's Life in Music
University of Alberta Press, 9781772120479, 168pp.
Publication Date: June 8, 2015
* Individual store prices may vary.
Description
"If anything, he was an anti-celebrity. He did not conform to society's ideal of a refined classical musician. He did not even conform to the rhinestone image of a country music star. Nor did he care to. He was not merely a bohemian; he was an ?ber-Bohemian."
Until his death in 1982, Edmonton luthier and composer Frank Gay built guitars for several famous musicians, including country stars Johnny Cash, Don Gibson, Webb Pierce, and Hank Snow. He entranced listeners with his singular talent on guitar and lute, and was well known within the music industry. Very few recordings of his work exist, and the sparse accounts of his life and work raise more questions than they answer. In uncovering the story of this private yet charming and often troubled man, Trevor Harrison does a tremendous service to Canadian culture and western music history. Musicians and instrument makers, as well as those interested in western Canadian history or Edmonton's colourful past, will be fascinated by this biography of western Canadian luthier, musician, and guitar virtuoso Frank Gay.
About the Author
Trevor W. Harrison is Professor of Sociology at the University of Lethbridge and Director of Parkland Institute. Frank Gay (1920-1982) was a personal friend of the author's parents; an unforgettable character who often was a guest and who once sold Trevor's dad a National steel guitar that remains in the family.
or
Not Currently Available for Direct Purchase