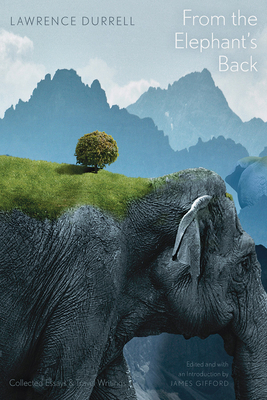 From the Elephant's Back (Paperback)
Collected Essays & Travel Writings
University of Alberta Press, 9781772120516, 300pp.
Publication Date: March 16, 2015
* Individual store prices may vary.
Description
"This collection has a straightforward ambition: to redirect the interpretive perspective that readers bring to Lawrence Durrell's literary works by returning their attention to his short prose." - From the Introduction
Best known for his novels and travel writing, Lawrence Durrell defied easy classification within twentieth-century modernism. His anti-authoritarian tendencies put him at odds with many contemporaries-aesthetically and politically. However, thanks to a compelling recontextualization by editor James Gifford, these 38 previously unpublished or out-of-print essays and letters reveal that Durrell's maturation as an artist was rich, complex, and subtle. This edition promises to open up new approaches to interpreting his more famous works. Durrell fans will treasure this selection of rare nonfiction, while scholars of Durrell, Modernist literature, anti-authoritarian artists, and the Personalist movement will also appreciate Gifford's fine editorial work.
About the Author
Lawrence Durrell (1912-1990) was a critically hailed novelist, poet, and travel writer born in Jalandhar, British India, and best known for the Alexandria Quartet novels, which were ranked by the Modern Library as among the greatest works of English literature in the twentieth century.James Gifford is associate professor of English and the Director of the University Core Curriculum at Fairleigh Dickinson University in Vancouver. He has published several scholarly works on Lawrence Durrell. His latest publication is Personal Modernisms (2014).
or
Not Currently Available for Direct Purchase