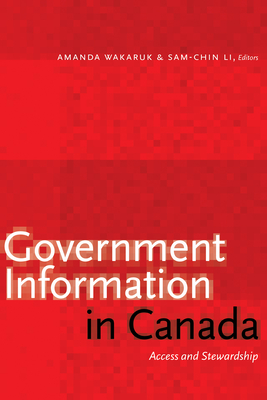 Government Information in Canada (Paperback)
Access and Stewardship
University of Alberta Press, 9781772124064, 376pp.
Publication Date: April 4, 2019
* Individual store prices may vary.
Description
Public access to government information forms the foundation of a healthy liberal democracy. Because this information can be precarious, it needs stewardship. Government Information in Canada provides analysis about the state of Canadian government information publishing. Experts from across the country draw on decades of experience to offer a broad, well-founded survey of history, procedures, and emerging issues--particularly the challenges faced by practitioners during the transition of government information from print to digital access. This is an indispensable book for librarians, archivists, researchers, journalists, and everyone who uses government information and wants to know more about its publication, circulation, and retention. Contributors: Graeme Campbell, Talia Chung, Sandra Craig, Peter Ellinger, Darlene Fichter, Michelle Lake, Sam-chin Li, Steve Marks, Maureen Martyn, Catherine McGoveran, Martha Murphy, Dani J. Pahulje, Susan Paterson, Carol Perry, Caron Rollins, Gregory Salmers, Tom J. Smyth, Brian Tobin, Amanda Wakaruk, Nicholas Worby.
About the Author
Amanda Wakaruk is copyright librarian at the University of Alberta. Sam-chin Li is reference/government publications librarian at the University of Toronto.