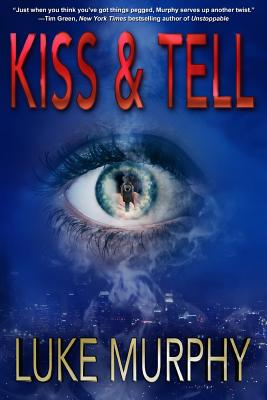 Kiss & Tell
Paperback

* Individual store prices may vary.
Other Editions of This Title:
Paperback (6/9/2018)
Description
With the death of her father...
Officer Charlene Taylor has received her dream promotion-working Homicide with the LAPD. Her first case is the high-profile murder of Ken Anderson, a playboy UCLA professor with a haunted past. A mafia kingpin, billionaire tycoon, cheated wife and jaded lover are only a few on a long list of suspects, all with motive and opportunity.
...all hope of reconciliation is lost.
Not only does she feel the pressure from media and her boss to solve her first case, but Charlene must also deal with her father's murderer, the "Celebrity Slayer," a serial killer who enjoys baiting her with his knowledge of her life and routines.
Can a rookie detective work two high-profile cases and still keep her sanity?
Editorial Reviews:
"Luke Murphy scores big with this deep psychological thriller. Just when you think you've got things pegged, Murphy serves up another twist. Fast paced and fun, you won't want to put this book down." -Tim Green, New York Times bestselling author of Unstoppable
"An intricately detailed and clever mystery featuring a tough minded but vulnerable protagonist with more than a few demons of her own. The twists and turns kept me guessing to the very end." -Christy Reece, New York Times bestselling author of Nothing To Lose
"Luke Murphy's Kiss & Tell is a character driven page-turner with an interesting plot. The main character, LAPD Detective Charlene Taylor, draws the reader into her world for a ride throughout the book. This is one definitely not to miss." -Dianna T. Benson, bestselling author of The Hidden Son
"Luke Murphy's heroine, Charlene Taylor, is tough and tender. Kiss & Tell is a first-rate police procedural. Hang on. You'll have fun." -James Thayer, author of The House of Eight Orchids
"Luke Murphy's novel, Kiss & Tell, has lots of twists and turns, and police procedures where the good guy, in this case, Charlene Taylor, is not always good. The characters come to life with suspense, drama, explosive action, and an ending you never see coming." -John Foxjohn, USA Today bestselling author of Killer Nurse.
Imajin Books, 9781772230895, 292pp.
Publication Date: July 15, 2015
About the Author
Luke Murphy is the International bestselling author of Dead Man's Hand (Imajin Books, 2012). Murphy played six years of professional hockey before retiring in 2006. His sports column, "Overtime" (Pontiac Equity), was nominated for the 2007 Best Sports Page in Quebec, and won the award in 2009. He has also worked as a radio journalist (CHIPFM 101.7). Murphy lives in Shawville, QC with his wife, three daughters and pug. He is a teacher who holds a Bachelor of Science degree in Marketing, and a Bachelor of Education (Magna Cum Laude). Kiss & Tell is Murphy's second novel. He is represented by The Jennifer Lyons Literary Agency. For more information on Luke and his books, visit: www.authorlukemurphy.com 'like' his Facebook page at: http: //www.facebook.com/pages/AuthorLukeMurphy
or
Not Currently Available for Direct Purchase