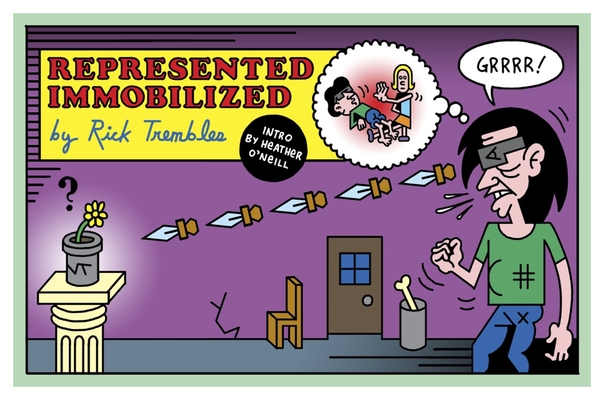 Represented Immobilized
Paperback

* Individual store prices may vary.
Description
Schoolyard scuffles. Seedy matinees. Run-ins with inept riot cops. Representation Immobilized is an unflinching look through the smudged lenses of Rick Trembles' glasses at his early years in Montreal. Montreal Punk legend and alternative cartoonist Trembles was roommates with the editor of the influential zine Fish Piss where these autobiographical strips were first published. After a midnight move from a crumbling apartment Trembles gradually started bringing all his childhood belongings back, bit by bit, which started triggering memories from his past. Worried about them fading from memory as time wore on, he took the opportunity to document them before they could vanish. One of his last entries in this series questioned the nature of selective memory, why certain inanities from one's past might resonate more than others, & why, no matter how hard you try, there's no guarantee you can deliberately instigate an event in your life in the present that will pass the test of time as worthy of recollecting years down the line. The book also contains other autobio work from Trembles over his active 40 years.
Conundrum Press, 9781772620542, 60pp.
Publication Date: April 15, 2021
About the Author
Rick Trembles is a Montreal-based illustrator, post-underground cartoonist, writer, filmmaker, and musician. Two books of his Motion Picture Purgatories have been published by the UK's FAB Press. He's written for Fangoria and Rue Morgue Magazine and his comix have been published in internationally distributed books, periodicals and anthologies such as Russ Kick's The Graphic Canon, Robert Crumb's Weirdo, Darius James' That's Blaxploitation, Thomas Waugh's Montreal Main, Fantagraphics Books' Pictopia, Kier-la Janisse's Spectacular Optical Kid Power, Satanic Panic, and Yuletide Terror, and France's Hopital Brut for Le Dernier Cri. His award winning animated film Goopy Spasms has toured the festival circuit globally. He is currently animating a series of cartoon shorts called "Building 108." He's been a singer-guitarist for post-punk band The American Devices since 1980. The L.A. Times has called him "A famous free thinker," The Guardian has called him "Genius."